British troops haul Ridgback in Helmand marathon
Soldiers from the General Service (GS) Squadron decided that running a marathon in the Afghan summer heat was just not original enough so they…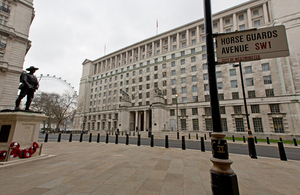 Soldiers from the General Service (GS) Squadron decided that running a marathon in the Afghan summer heat was just not original enough so they opted instead to up the ante and pull the huge armoured personnel carrier around the 26-mile (42km) route - all after working at least 12 hours through the day doing their normal duties.
Labelled the Sond Chara (Red Dagger) Challenge, five relay teams of 20 soldiers from the squadron began the feat at midnight on 4 June - when the temperature had fallen from the day's blistering 45 degrees Celsius to a still balmy 30 degrees.
Taking the strain, each and every team member pulled the equivalent weight of a family car for their leg of the route around the camp that they had to complete 11 times in order to cover the full marathon distance.
Taking slightly less than 7.5 hours, the weary team finished with the sun rising above the horizon, just in time for a shower and a few hours' sleep before heading back out to work later that day within the Theatre Logistics Group.
Hailing the Sond Chara Challenge a complete success, the event organiser, Captain Tim Jarrett, said:
It pushed everyone to their limits, I am so impressed that no-one stopped, no-one quit, and we smashed this momentous challenge.
Describing the challenge as 'hideous', Troop Commander Lieutenant Charlie Freed said:
It felt like someone kept putting the brakes on repeatedly; before this I thought that Bastion was quite flat, but I felt every bump and incline in the straps on my shoulders.
The team are raising money for the Samantha Dickson Brain Tumour Trust, a charitable organisation that raises funds for brain tumour research in the UK.
The cause was chosen in direct support of Mr Nigel Oxland, a MOD employee attached to the GS Squadron, whose son Kris has lived with a tumour for the past nine years. The squadron has so far raised almost £3,000 towards their £10,000 target, and donations can be made through their Just Giving website (see Related Links).
Published 14 June 2011