British-trained ANA soldier becomes bomb disposal hero
A hero Afghan soldier has saved countless lives by fearlessly disposing of a series of deadly roadside bombs - all thanks to his British training.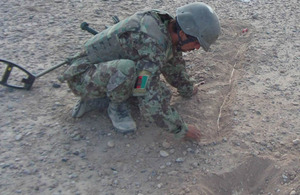 Sergeant Abdullah Nasrullah, a 26-year-old Tajik, born and bred in Helmand province, qualified as an Explosive Hazard Reduction (EHR) operator in September 2009. He has already led his team in dealing with improvised explosive devices in a series of incidents and is now involved in training other Afghan troops in bomb disposal skills.
After playing a key role in Operation OMID CHAR, a pioneering Afghan-planned and led offensive to clear an area of Gereshk of insurgent activity last year, Sergeant Nasrullah is now considered the most experienced EHR operator in the Afghan National Army (ANA). He is revered amongst his colleagues, who know his actions have, without doubt, saved many lives.
Out on operations, Sergeant Nasrullah commands a team of four ANA warriors, tasked with responding to and rendering safe Helmand's biggest killer, IEDs.
The British-led course he undertook was set up in order to enable the ANA to quickly counter a growing threat that has killed or maimed hundreds of Afghan, British and other international troops, as well as civilians, within Helmand alone.
While his team have the ability to conduct all IED search tasks, as the operator it is Sergeant Nasrullah's job to respond to any call and, having initially assessed the situation, embark on the 'lonely walk' down to the sharp end.
Once at the device, he alone must make an assessment of what type of device it is and how the components are laid out. He will then eliminate the threat by placing an explosive charge, moving to a safe location, and destroying the IED.
Captain Ben Foster, Staff Officer with the Counter-IED Task Force, paid tribute to the sterling work of Sergeant Nasrullah.
He said:
With no financial incentives available for his role, Sergeant Nasrullah is motivated purely by a desire to improve the safety of his colleagues both in the ANA and ISAF, and to rid his country of the IED threat. Sergeant Nasrullah's actions out on operations secure him a place amongst the bravest of ANA warriors.
Having proved his ability on a number of occasions, Sergeant Nasrullah now spends less time out on the ground - but only because he is now busy training up new Afghan troops who will follow in his footsteps and take forward the battle against the Taliban's indiscriminate weapon of choice.
Sergeant Nasrullah's principal mentor, who saw him through his training and is now teaching him to teach others, is Sergeant Duncan Gordon, a member of the British Counter-IED Task Force training team.
Since being in theatre, Sergeant Gordon's primary responsibility has been to mentor the ANA Explosive Hazard Reduction Team members in northern Nahr-e Saraj, and he has been deployed forward as the sole Counter-IED training team representative in the area.
Throughout the three-week duration of Operation OMID CHAR, he lived with a five-man Afghan Explosive Hazard Reduction Team and was on hand to offer guidance as required, training them in search and destroy skills.
Sergeant Nasrullah, who has been a soldier in the Afghan National Army for five years, said:
When I was first told about the Explosive Hazard Reduction course, I wanted to do it because I wanted to learn to remove the IED from my country. We were taught how to deal with IEDs and other mines that are common in the ground here.
I was very proud when I passed the Explosive Hazard Reduction course but I was worried at first about the job. Since the recent operation OMID CHAR, my confidence has grown and I am glad to be able to remove these devices. I am very pleased to work with my mentor Sergeant Gordon who has taught me a lot.
Now I am happy to be teaching these skills on to other members of the Afghan National Army so that we can eventually defeat the insurgents once and for all.
Sergeant Gordon said:
Sergeant Nasrullah has adapted very well to the tasks that were given to him by his ANA commanders. He deals with all of his tasks calmly and professionally, bravely going up to each IED, assessing the device, then destroying it - much to the relief of the ANA infantry on the ground.
A daunting task that many personnel would not dare to attempt, he strives to deny the Taliban their goal of death and injury. A very adaptable and capable man, who has a great sense of accomplishment after each task his team conduct, Sergeant Nasrullah is undoubtedly one of the ANA's most fearless. It has been an honour to work with him and I look forward to seeing many more Afghans like him come through training in the future.
Published 1 February 2011