British-trained Afghan soldiers start to take over the IED fight
An Afghan National Army (ANA) bomb disposal team, trained by British forces, has put its skills into practice for the first time, safely disposing of two deadly improvised explosive devices (IEDs) in Helmand province.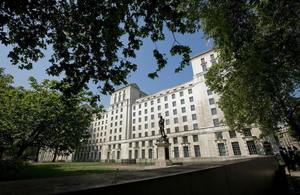 In an important milestone in the development of the Afghan security forces, the ANA counter-IED team conducted a textbook operation under the oversight of their British partners from the Counter-IED Task Force.
They used controlled explosions to render safe the Taliban traps, which threatened the lives of British and Afghan soldiers, as well as local civilians. The deadly devices had been discovered earlier during a joint patrol by Afghan National Army soldiers and C Company of 1st Battalion The Royal Irish Regiment.
In a partnered operation, British and Afghan soldiers from the patrol worked together with the Afghan National Civil Order Police to provide an outer cordon, establishing a safe area around the devices for the Afghan counter-IED team to work within.
Exhibiting all the correct safety procedures, the newly-trained Afghan bomb disposal experts then set to work, using a loudspeaker throughout the operation to inform inhabitants of the nearby village what was happening.
Lieutenant Jaqoob Khan, the Afghan National Army commander at the scene, said:
The loudspeaker provided much-needed reassurance for the local people. Parents are always concerned for the welfare of their children when explosions are heard. Unfortunately, children playing in the fields and tracks are often the victims of these cruel devices.
Our men did a good job and proved their skills. They eliminated this threat and our British friends from the Counter-IED Task Force complimented their attention to safety.

This is an important step in the Afghan National Army's ongoing development.
To celebrate the successful operation, C Company, 1st Battalion The Royal Irish Regiment, later hosted members of the ANA counter-IED team for dinner in their patrol base, further cementing the bonds between the soldiers of the two nationalities.
Major Alastair Harbison, Officer Commanding C Company, 1st Battalion The Royal Irish Regiment, said:
We see this as a real milestone. The Taliban insurgents don't want the ANA to have the skills to tackle the IEDs they lay indiscriminately, threatening the safety of the Afghan people - but there is nothing they can do about it. The Afghan capability we saw demonstrated on this operation is here to stay.

During patrols, the ANA take the lead wherever possible - entering compounds, speaking with locals, demonstrating their ability to provide security - and now they boast the ability to make safe IEDs as well. This sends a strong message to the local population that the ANA is a capable force providing security for much-needed development projects.
Published 25 November 2010