British-trained Afghan police open new station
The new base for officers from the ANP who have been trained by British forces is close to the British- and Afghan Army-manned Patrol Base Attal…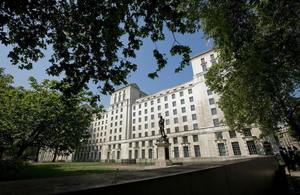 The new base for officers from the ANP who have been trained by British forces is close to the British- and Afghan Army-manned Patrol Base Attal.
The police station is one of two funded by the UK that opened in November and on his recent trip to Afghanistan Prime Minister David Cameron announced that a further seven would be opened in Helmand as part of a £33.1m funding package to develop policing in the province.
It protects Route 601, the key artery which connects Lashkar Gah with Gereshk, Sangin and Kandahar, and which has historically suffered problems from insurgent activity. The new station will also allow for a local school, which the police had been using as their station in the area, to reopen.
The police station has been built by British and Afghan engineers, with assistance from locals eager to see the improved security that it will bring.
Reports indicate that it is seen locally as representing the Afghan Government's continued dedication to the people of Afghanistan, and as a milestone in the development of the area's security situation. Its opening attracted lots of enthusiastic visitors keen to see their community's latest facility.
The opening, coupled with an ongoing increase in the number of police being trained, means that the police can continue to expand their coverage.
The Afghan National Police - mentored and supported in Helmand by The Argyll and Sutherland Highlanders, 5th Battalion The Royal Regiment of Scotland - are putting their training to best effect in more and more areas.
Previous checkpoints and police stations have been nothing more than huts made from mud with a few policemen guarding them. But this new station has many modern facilities.
These include spacious and comfortable accommodation for the police stationed there, a sports and recreation area, a modern kitchen, flushing toilets, car parking and a vehicle-washing facility. There are also several watchtowers which provide an increased range of sight.
Prior to the opening of the new station, the police operated out of a school building. Now it is planned to refurbish this and turn it back into an education facility for local children.
Colonel Kamaluddin Sherzai, Chief of Police for Lashkar Gah, said:
Up to now, the ANP kandak [battalion] here has been working from a school, but the move to the new station will enable the school to be reopened and once again provide education for the children. This is very important and appreciated by the people.

Once there was a time when our police were building checkpoints from mud by themselves. They were also defending the area from insurgents. There was no 'HESCO' [barrier walls] or other infrastructure for them. This new concrete building is a good sign of improvement for the police. Now we can operate our checkpoints from this police station.

If we build similar stations for police to operate from then I assure you that we will be able to provide tight security for the people without help from ISAF. We are attempting to get to a situation where ISAF only need to operate from one location outside of Lashkar Gah. Then one day we will be able to secure our country by ourselves.
Captain Niall Archibald, from The Argyll and Sutherland Highlanders, 5th Battalion The Royal Regiment of Scotland, said:
With our ongoing support the Afghan National Police in Helmand are growing in confidence and increasingly capable of dealing with a range of policing situations. They make the best of very challenging conditions.
"An improvement in their facilities will help us to accelerate their development into a force capable of maintaining security, eventually without the need for us to back them up."
Published 8 December 2010