World news story
British talk with legendary dancer Carlos Acosta
On February 27, Carlos Acosta, world-renowned dancer and choreographer, Director of the Acosta Danza Company, gave a talk at the British Residence in Havana.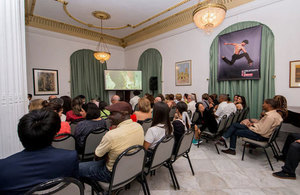 In order to celebrate the creative links between the United Kingdom and Cuba, leading personalities from Cuban art and culture; the British community on the island and other guests and friends attended the British talk with the ballet star, Carlos Acosta. He is considered one of the most prominent artist of dance in the late 20th and early 21st centuries.
During the event, Acosta expanded on his relationship with the United Kingdom and on his artistic growth and creative work as a choreographer and writer. He enchanted the audience with his experiences in the creation of Acosta Danza Company and anecdotes on the warm reception always offered to him by the British public.
In 2008 he received the Benois Dance Prize. In 2009 he was named Commander of the Order of the British Empire. In 2011 Carlos Acosta was awarded the National Dance Prize by Consejo Nacional de las Artes Escénicas de Cuba.
A wonderful night of creativity!
Published 21 March 2018