British submarine launches further strikes on Libyan air defence systems
A Royal Navy submarine has launched further missile strikes against Libyan air defence targets as part of co-ordinated coalition action in support of enforcing UN Resolution 1973.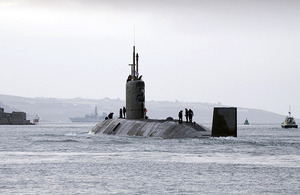 In a statement, the Chief of the Defence Staff's Strategic Communications Officer, Major General John Lorimer, said:
British Armed Forces have again participated in a co-ordinated strike against Libyan air defence systems in support of the United Nations Security Council Resolution 1973.
The UK launched guided Tomahawk Land Attack Missiles from a Trafalgar Class submarine at air defence targets as part of the coalition plan to enforce the resolution.
Britain and her international partners remain engaged in operations to support United Nations Security Resolution 1973, to enforce the established no-fly zone and to ready the UK's contribution to the NATO arms embargo of Libya.
Published 24 March 2011