British soldiers use community engagement to beat insurgents in Afghanistan
British troops distributing aid in Kabul say it's helping them to improve security in the Afghan capital.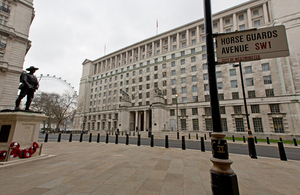 The Joint Support Unit in Kabul provides assistance to the local community by improving schools and commissioning new wells in the area:
I'm responsible for the protection of Camp Souter," said Captain Tiernan Hick, "but I'm also involved in projects with the local community, distributing things like food and blankets.
Keeping the locals onside is a big part of what we need to do here to provide security.
They're effectively our outer cordon of security. By keeping them onside, they will inform us of any insurgents that move into the area, or anything that's untoward. So having a positive relationship with them is crucial.
The soldiers from Camp Souter are engaged in work known as 'Consent Winning Activity', carrying out projects that directly improve locals' quality of life:
In the five months we've been here we've seen a huge amount of change," said Captain Hick.
The local population are very pro-British forces in this area.
Sergeant Kevin Bond and Signaller Mark Kershaw, both from the Joint Support Unit, have been helping to distribute essential items to dozens of families at Kujah Rawesh school, located just outside Camp Souter:
We've given them some rice, oil and blankets, along with some gifts," said Sergeant Bond.
It makes a massive difference, because they've not got a great deal of money themselves. And it certainly makes a difference for us as well when we're out patrolling, interacting with them.
I've seen a lot of change, especially with the local elders," he added. "They've become a lot more friendly towards us, and we've enjoyed much better relations with people outside the camp walls.
Signaller Kershaw explained:
A lot of the people out here don't have much, so for us to come here and help them is really good. It shows that we're not just here to fight people, we're here to try to improve life for the local population.
The local people have been a lot more friendly towards us since we've been out here," he added. "They say 'hi' a lot more, a lot of young people give us the thumbs-up, and they make an effort to speak to you.