British soldiers impart medical knowledge to Afghan counterparts
Personnel from the Royal Army Medical Corps (RAMC) have been mentoring Afghan soldiers to improve their trauma care and first aid skills.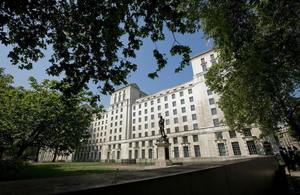 A small band of medics within the British Army's Brigade Advisory Group are using their knowledge and experience to help their home-grown equivalents function as an independent outfit.
Based at Camp Shorabak, the team has been teaching Afghan warriors core skills in trauma, primary healthcare, anatomy and delivering first aid under fire in an intensive eight-week course.
But the reality of instructing these soldiers is far removed from the methods used on recruits within the UK's ranks.
With literacy levels ranging from low to non-existent, PowerPoint presentations and lectures are not an option:
I have not seen a computer since I've been here. This is back-to-basics, old-school teaching," said Captain Ed Gordon, the officer in charge of the advisory group medics.
"Hands-on training is what this is all about, with lots and lots of practice.
"They like games and competitions so we use that in our teaching and they always want to win.
Afghans see their medic qualification as prestigious. When they go back to their villages or towns after leaving the Army it will be of use.
While teaching methods have been adapted to suit the students' needs, there is no doubt about their desire to learn and progress in the future. Captain Gordon added:
They are quite receptive. We have seen those who qualify go to their kandaks [battalions] and prove themselves as robust medics.

I think this is working very well. We are never going to make them into London Ambulance Service paramedics but this is about them operating in Afghanistan.

This is one of the best jobs in Helmand province as we are working with the locals and helping them move towards transition.

Developing the medical capability is what it's all about but we are also training instructors to teach their colleagues without our help.
"Hopefully by the time we leave, or through Op HERRICK 17, it will be the Afghan sergeants teaching the warriors to be medics.
For transition [of operational responsibility] to go smoothly the medical capability and counter-IED work is key. Anyone can shoot or drive a truck.
One part of the programme sees the aspiring medics taking part in a training serial in which two warriors are 'injured' by an 'improvised explosive device'.
The troops quickly return fire as the casualties are moved to cover, where they receive immediate first aid followed by in-depth treatment. But the simple use of a tourniquet has also created problems.
British soldiers have had to teach the Afghans how to tell the time using digital watches so they can record when the device was applied.
Instructor Staff Sergeant Jason Summerfield said:
The main thing about the instruction here is the practical element; the theory side falls dead. We cannot use PowerPoint or slides as they would all fall asleep. It is about making it as hands-on as possible.

They are receptive to the right teaching. We made a lot of mistakes in the first two weeks but since we changed the programme they have been getting better and better.
"In the future they will work independently on their own medical evacuations and treatments and will be successful.
This is a challenge I wanted. I have done some instructing in the UK and it is good for me to pass on my knowledge and experience.
Fellow instructor Warrant Officer Class 2 Rob Davies has been impressed by the medics passing through the programme and believes the standard of education and literacy prior to the course is not a major concern:
They are enthusiastic and motivated, they want to be medics and they want to learn, which is far more important than being literate," the Senior Non-Commissioned Officer explained.

They have absorbed more than we thought they would and we do a lot of repetitive teaching, which helps.

They want to become medics as they feel it is helping the Army and Afghanistan.

If these guys go on the battlefield we are sure they will save lives. Once they get some experience under their belts they will be a lot more effective.
This article by Richard Long is taken from the August 2012 edition of SOLDIER - Magazine of the British Army.
Published 21 August 2012