British soldiers help Afghan police colleagues stay warm
The Police Mentoring and Advisory Group (PMAG), which is led by 1st Battalion The Princess of Wales's Royal Regiment (1 PWRR), has been assisting…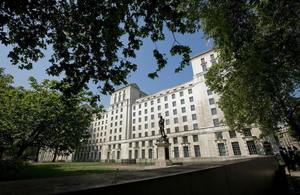 The Police Mentoring and Advisory Group (PMAG), which is led by 1st Battalion The Princess of Wales's Royal Regiment (1 PWRR), has been assisting the development of the Afghan National Police (ANP) supply chain.
On this occasion the British mentors used a NATO-funded project to provide winter blankets for patrolmen out in the police checkpoints. This project also helped to develop the local economy as the blankets were sourced from the local bazaar in Lashkar Gah.
The PMAG has also been working hard recently on 'winterisation' projects across the three districts which it has responsibility for. This has included improving infrastructure in the checkpoints, such as better guard-tower positions and accommodation, and providing shelter for sentries.
Captain Mark Anderson, 1 PWRR, is the logistic mentor to the Afghan Uniform Police Chief of Logistics within the Provincial Police Headquarters in Lashkar Gah. He said:
A large part of my time has been spent on improving infrastructure, which in the short term has meant assisting the Afghan Uniform Police [AUP] in preparing their checkpoints for the onslaught of winter.

The opportunity to mentor such interesting characters in logistics certainly has its challenges, and also its rewards. Playing your part in ensuring that the AUP can sustain themselves throughout the winter and beyond gives you a real sense of achievement.
The PMAG formed by 1 PWRR is responsible for mentoring the ANP at provincial and district level and aiding institutional development. The PMAG also has a number of Police Advisory Teams which advise the police on the ground across the Task Force Helmand area of operations.
Published 10 February 2012