British soldiers help Afghan police build checkpoint
Soldiers from D Company, 5th Battalion The Rifles (5 RIFLES), supported the Afghan Uniform Police in the village of Khasar in the protected …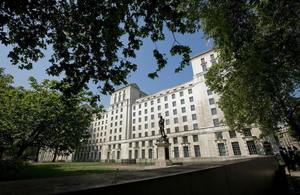 Soldiers from D Company, 5th Battalion The Rifles (5 RIFLES), supported the Afghan Uniform Police in the village of Khasar in the protected community of Walizai in the Babaji area of the Nahr-e Saraj (South) district of Helmand province.
In the three-day partnered Operation KAPCHA DELAWAR 4, or 'Brave Cobra', more than 60 Riflemen guarded the area while IEDs were cleared out so that the Afghan police were able to build the defences around their new checkpoint.
Insurgents had been infiltrating the district from south of the River Helmand to intimidate the local population and attack Afghan police and ISAF troops.
But a summer of high-tempo offensives devastated insurgent operations in the area, allowing Afghans to farm their land and see their children start going to school.
Afghan police commanders recognised the need for the new checkpoint to help choke off insurgent access to the area.
Major Matt Baker, Officer Commanding D Company, 5 RIFLES, said the operation would improve security in the area and had helped to cement the relationship between the newly-arrived D Company Riflemen and the local Afghan police.
Major Baker and other Riflemen had lunch with the Afghan police commander, Colonel Masloom, and his deputy, Major Mirza Khan, following the successful operation. He said:
The success of this partnered operation will deny insurgents access to the protected community in Walizai.

Although it was D Company that provided the security necessary for the clearance of IEDs from the area, and for the police to build the checkpoint, it will be the police who will man it and protect the people of Walizai from insurgent violence and intimidation.
Published 25 November 2011