British soldier sets up boxing club for Afghan youngsters
A British soldier who serves with the Joint Support Unit at Camp Souter, the main ISAF base in the Afghan capital Kabul, has set up a boxing club for Afghan youngsters.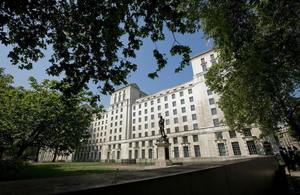 Warrant Officer Class 2 Rob Smith, aged 39, from Newquay, has been running training sessions with young people from the local Afghan community:
I started training some of the local traders on camp because I found out they enjoyed boxing," he said. "I love boxing, and the word got around. It didn't take long to realise that these guys have got talent. And the relationship has built up since then.

It keeps the guys off the streets and keeps them out of harm," he added. "And you have the social aspect of it. It's a place for them to congregate. As with boxing in the UK, here in Afghanistan a boxing club is a place to not only train, but also to get together.
WO2 Smith arrived at Camp Souter at the start of this year. The Joint Support Unit provides assistance to the local community, carrying out projects such as the commissioning of new wells. The unit also looks to improve the local schools and communal areas.
A number of youngsters have been taking part in the training sessions at Camp Souter, including Omar, 19, who runs a shop on the base selling gifts:
I was working on the punch bag in the gym on camp one day when Rob saw me," said Omar. "He started training with me. Rob is very good at boxing, and he's a very good coach.

Boxing is my life," he added. "My favourite boxers are Mike Tyson and Amir Khan. I also like Rocky!
There are approximately forty boxing clubs in Kabul. Only a handful are government-sponsored, and many are short of equipment.
As well as providing training sessions at Camp Souter, WO2 Smith has also met with a representative from the Afghan Boxing Federation and coaches from one of the local clubs, Jawanan Boxing Kabul. He's helped to provide the club with some much-needed kit:
The area where we are situated is not the most affluent in Kabul," he said, "so we've taken it upon ourselves to assist in any way we can. Having e-mailed everyone I know and a few people I don't in the boxing industry back in the UK, we've started to accumulate a few bits and pieces of equipment which we've presented to the club.
Among those who've pledged support is James DeGale, who won a gold medal for Great Britain in the middleweight category at the Beijing Olympics in 2008. His sponsors Lonsdale have put together a package of equipment for the Afghan boxers which includes training tops, gloves and boots.
Other boxers who've helped out include Ricky Hatton and Carl Froch, who've sent WO2 Smith signed posters that have been auctioned to raise money for more equipment:
We've been very fortunate," said WO2 Smith, "but if anyone sends us more kit, whether it's old or new, it's always welcome.
Published 9 May 2011