British soldier instructs next generation of Afghan bomb search experts
A British soldier serving in Afghanistan's Helmand province is teaching the next generation of Afghan military bomb disposal experts.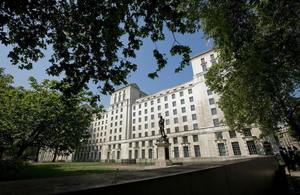 Corporal Antonio 'Tony' Sivo, of 36 Engineer Regiment, a Fijian who lives in Chatham, Kent, is the only British instructor teaching on the four-week Explosive Hazard Reduction Course in the Nad 'Ali region of Helmand, with Staff Sergeant Safiq Hakimi of the Afghan National Army assisting him.
Corporal Sivo, serving with the Explosive Ordnance Disposal and Search Task Force, said:
We teach how to search for explosives, ground sign awareness and the safe handling of explosives for when they are dealing with devices.

It'll be down to them when they qualify, and if they carry out their drills and procedures the way they've been taught they'll be saving not only their own lives but also the lives of others.
While Cpl Sivo is teaching from his own experiences, his Afghan colleague draws on his own varied experiences to great effect as well:
It's important to have the experience of an Afghan instructor because he's done the job many times before, and when he comes into a lesson he'll relate it to real-time experiences he's gone through.
Having worked with the Afghans over a period of months since his tour began, Cpl Sivo has seen the capability of the Afghans to deal with explosive devices steadily improve, which is very rewarding for the young instructor:
With the Explosive Hazard Reduction Team members that have already been trained, we've seen the improvements from previous operations that have been carried out," he said. "They're able to deliver the capability safely and very professionally.

We're getting the Afghans to lead the way with more soldiers who are capable of dealing with these tasks. The most rewarding thing is knowing that, once they qualify as Explosive Hazard Reduction Team searchers or operators, they will be out there leading the way in providing peace and stability to their own country.
Please tell us what you think about government news on the web by filling in the short survey at Related Links.
Published 17 July 2012