World news story
British Senior Minister of State in Uzbekistan
The Rt Hon Baroness Warsi, Senior Minister of State at the UK Foreign & Commonwealth Office, has started her official visit in Uzbekistan.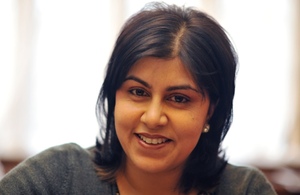 On 11 June the Minister arrived in Khiva in western Uzbekistan. Baroness Warsi met local officials and toured the city before moving to Tashkent, where she will have bilateral talks with high-level officials in the Uzbek Government and Parliament.
Baroness Warsi met with Mrs. Shakarjon Khujaniyozova, First Deputy Governor of Khorezm Region and discussed economic development of the city/Region, agriculture, environment and tourism. Baroness Warsi also had a tour around the city and met local craftsmen and women, including a visit to a carpet workshop established with the support of British Council.
Baroness Warsi was appointed Senior Minister of State at the Foreign & Commonwealth Office and Minister for Faith and Communities at the Department for Communities and Local Government in September 2012. She was previously Chairman of the Conservative Party and is a Conservative member of the House of Lords. The Minister is responsible for: Afghanistan, Pakistan, Bangladesh and Central Asian states; human rights; UN, OIC, International Organisations and the International Criminal Court; all FCO business in the House of Lords. Baroness Warsi visited Uzbekistan for the first time in April 2012 in the capacity of Minister without Portfolio. During her first visit she visited Bukhara and Samarkand.
Published 12 June 2013