World news story
British Secretary of State for International Trade visits Brazil
Dr Liam Fox meets Brazilian Minister for Development, Industry and Trade for the UK-Brazil JETCO 2016.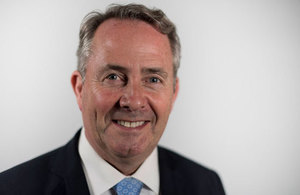 The British Secretary of State for International Trade, Dr. Liam Fox, arrives in Brazil this Tuesday, December 6, for a series of meetings and events in Brasilia and Sao Paulo.
The main highlight of his programme is the 9th edition of the UK-Brazil Joint Economic and Trade Committee, alongside with the Brazilian Minister for Development, Industry & Trade, Marcos Pereira. The event takes place at the Ministry of Industry, Foreign Trade and Services (MDIC), in Brasilia, and will discuss bilateral collaboration on trade and investment, as well as initiatives to support mutual growth in the coming years.
"Since the last JETCO in London much has changed on UK and Brazilian sides, which for me represents a unique opportunity to re-energise our trading and investment ties", said Dr. Fox.
"I am glad to visit such a vital market in Latin America and we are keen to design an ambitious project with Brazil, taking mutual co-operation to a new level for the next years. Government and business should expand mutual collaboration to create a more business-friendly environment", completed the SoS.
Whilst in Brasilia, Dr. Liam Fox will also meet the Brazilian Finance Minister, Henrique Meirelles, the Defence Minister, Raul Jungmann, the Foreign Affairs Minister, José Serra, and UK companies established in Brazil.
In Sao Paulo, the SoS's agenda includes meetings with Brazilian investors in the UK and a speech at Britcham's 100th anniversary event.
"Between 2013 and 2014 only, there was an increase of 44% in the direct foreign investment made by the UK in Brazil. This increase was also witnessed in Britain, where the number of Brazilian companies operating in the country has doubled since 2013, reaching one hundred. This milestone coincides with Britcham's anniversary in Brazil, showing that we have more than a hundred reasons to celebrate." said Dr. Fox.
Published 7 December 2016