British Prime Minister meets Indian leaders
British Prime Minister David Cameron began the second day of his visit to India with a Guard of Honour at the Rashtrapati Bhavan.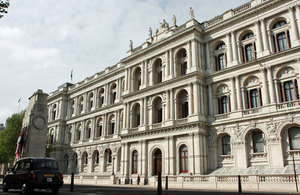 British Prime Minister David Cameron began the second day of his visit to India with a Guard of Honour at the Rashtrapati Bhavan. When asked about his expectations from this visit, Mr Cameron said:
"Well I have the expectation of building what is already a very strong partnership between Britain and India and I think we can make it stronger and deeper and we are going to be looking at all the aspects of the relationship from business, commerce and industry and also cultural exchanges."
Mr Cameron paid his respects to Mahatma Gandhi at the Raj Ghat and wrote in visitors' book:
"It's a great honour to return here as Prime Minister of the United Kingdom, and remember again the work and teachings of Gandhi. As he said, 'we should be the change we want to see in the world', words which mean even more today than when he first said them."
The Prime Minister met S M Krishna, Minister of External Affairs, and discussed a full range of foreign policy issues. This was followed by a meeting with the President of India, Smt. Pratibha Patil.
The Prime Minister, George Osborne, Chancellor of the Exchequer and Vince Cable, Secretary of State for Business, Innovation and Skills, participated in a UK Trade and Investment-sponsored televised "UK-India Economic Summit" discussion with Anand Sharma, Minister for Commerce and Industry, Kapil Sibal, Minister for Human Resource Development, and Montek Singh Ahluwalia, Deputy Chairman of the Planning Commission.
The discussion highlighted the macro-economic challenges facing the two governments and the trade and investment opportunities within the UK and Indian economies for business. The ministers took questions from a high-powered audience of senior Indian and UK business leaders. After the "UK-India Economic Summit", ministers from India and the UK co-chaired roundtable discussions on low-carbon investment, infrastructure and education.
The Prime Minister also visited the Major Dhyan Chand National Stadium, together with Foreign Secretary William Hague, Secretary of State for Culture, Olympics, Media and Sport, Jeremy Hunt and a British sports delegation. They met M S Gill, Minister for Youth Affairs and Sports and Suresh Kalmadi, Chairman, Commonwealth Games Organising Committee, and wished the Delhi 2010 Commonwealth Games every success. In the presence of senior representatives of Delhi, Strathclyde and the Metropolitan Police forces, they also noted the excellent police co-operation in preparing for the Games and the importance of the continuing relationship for the Olympics and 2014 Glasgow Commonwealth Games. The Prime Minister and delegation were joined by renowned Indian sportsmen and participated in sporting activities with able bodied children and children with special needs from schools involved in the International Inspiration programme.
Mr Cameron met with Vice-President Shri Hamid Ansari and then held discussions with Sushma Swaraj, BJP, Leader of the Opposition in Lok Sabha.
The Prime Minister and his ministerial team met with Indian Prime Minister, Dr Manmohan Singh, and Indian ministers for "UK-India Summit" talks. These were concluded with a joint press conference and a Joint Press Statement, and with the signing of a cultural memorandum of understanding.
Published 29 July 2010