Press release
British Prime Minister David Cameron delivers major speech on immigration policy
"Our migrant communities are a fundamental part of who we are and Britain is a far richer and stronger society because of them."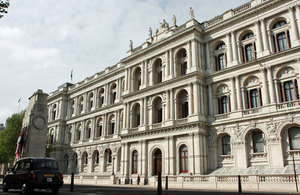 On 25 March British Prime Minister David Cameron delivered a major speech on immigration, setting out how to ensure a fair and balanced cross-Government immigration system in the UK, one that favours people who work hard and aspire to get on in life.
The Prime Minister stressed that immigration continues to have huge benefits for the UK and he expressed his pride in how open and diverse the UK has become:
"Our migrant communities are a fundamental part of who we are and Britain is a far richer and stronger society because of them. Whether it's great scientists, doctors and medical practitioners, artists, musicians, and sports stars or business leaders, entrepreneurs and hard-working small business men and women, so many great Britons today have family histories that have brought them to these shores. That is our island story – open, diverse and welcoming. And I am immensely proud of it."
He highlighted the positive impact of immigration policy on the UK's economy.
"When we said we would clamp down on bogus students some people thought that it would damage our universities. But the number of applications to study at universities has actually gone up. We want the brightest and best students in the world to choose our universities so we've said no cap on student numbers at our world class universities. Our universities are able to market themselves around the world on the basis that any genuine student in any country in the world who earns a place at one of our universities, and has a basic English qualification will be able to come and study here.
"We want the brightest and best innovators and entrepreneurs to choose Britain as the best place to start their next businesses so we've said 2000 extra places for graduate entrepreneurs including 1,000 for MBA graduates and new support to back foreign investors and entrepreneurs including those who are starting small scale but could end up running the blue-chip businesses of tomorrow.
"Let me put this simply. We're rolling out the red carpet to those whose hard work and investment will create new British jobs. Because we're in a global race for our economic future. And the right immigration is not just good for Britain – it's essential."
Referring to the cap on economic migrants from outside the European Economic Area, he also said:
"Not one business request has been rejected because of the limit – and not one scientist or engineer turned down for lack of space. Our limit on economic migrants which we set at 20,700 has been undersubscribed each and every month since it was introduced with businesses using only half their monthly quotas.
With specific remarks to address immigration from within the EU, he underlined his commitment to the EU single market and to the principle of free movement, but also that it was right to have a sensible debate about making sure that everyone who comes to the UK pays their way and gives something back. The UK is keen to have a constructive dialogue with EU partners and the European Commission on this issue, including on the scope for changes to the existing EU social security legislation.
Notes to editors
On 14 March a number of changes were announced to the UK's immigration rules. These will come into effect on 6 April. Details can be found at http://www.ukba.homeoffice.gov.uk/sitecontent/newsarticles/2013/march/24-rules.
Published 27 March 2013