News story
British-Peruvian Chamber of Commerce and USIL celebrate the 2013 Global Entrepreneurship Week
From 20 to 22 November, BE Lima joined the celebrations for the Global Entrepreneurship Week, launched by the British-Peruvian Chamber of commerce and University San Ignacio de Loyola.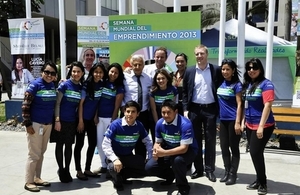 On Wednesday 20 November, the British-Peruvian Chamber of Commerce and University San Ignacio de Loyola presented the 5th Global Entrepreneurship Week in Peru. BE Lima, supporting the Entrepreneurship is GREAT Britain campaign, organised a surprise flash mob on campus with the help of 33 young professional dancers wearing GREAT Britain shirts, who danced to many well-loved British songs including a modernised version of the Beatles' "Yesterday".
Students on campus gathered around the dancers enthusiastically recording the moment on their phones and sharing it on their social network profiles.
Later that evening, in the Launch Ceremony, the keynote speaker was Martín Morales, known for his successful Restaurant "Ceviche" based in London. Other guests of honour included the coach of Peru's women's volleyball team, Natalia Málaga, renowned Peruvian chef Javier Wong, Fashion entrepreneur Lucía Cavero-Belaúnde, Peruvian Institute of Sport's (IEP) President Franciso Boza, and Distinguished hotelier José Koechlin.
British Ambassador in Lima, James Dauris, congratulated the entrepreneurs and the 33 young people who took part in the flash mob. From January to August this year, 340 000 new businesses were created in the UK, he commented: "It's not only 340 000 companies but the dreams of hundreds of thousands of people and their confidence in themselves."
Photo gallery: Click here.
Published 19 December 2013