World news story
British painter gives a Master Plein-Air Painting Workshop
This was published under the 2010 to 2015 Conservative and Liberal Democrat coalition government
English modern impressionist painter Michael Richardson comes to Bolivia to give a 3-day workshop in La Paz and Lake Titicaca.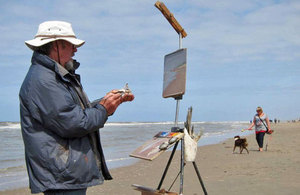 Michael Richardson has delivered similar courses in various countries of the world. He is the international ambassador for British brands Michael Harding Oilpaints and Rosemary & Co artists brushes. He is also a member of the Wapping Group of Artists, the Chelsea Art Society and the United Society of Arts.
He has exhibited at the Royal Academy of Arts, The Royal Society of Marine Artists, The Royal Institue of Oil Painters and The Royal Institute of Painters in Watercolour at the Mall Galleries.
The workshop in Bolivia will take place from 23 to 26 January. It is organized by Art Out Now and consists of the following: A first session studying tonal values in La Paz; a second session on the theory and treatment of colour, and a third session working on aerial and linear perspective at the Sun Island in Titicaca Lake.
Participants will be using material provided by Michael Harding Oilpaints and Rosemary & Co brushes. Canvas frames will be provided by Futures for Heroes, a charity that helps British veterans in need.
The British Embassy La Paz supports this workshop as part of its GREAT campaign activities in Bolivia. This campaign showcases the very best of what Britain has to offer, in this case British artistic talent and creativity, as well as first-class painting materials made in the UK.
The workshop is open to new painters as well as experienced artists of most ages. The resulting artworks –both from Richardson and the participants- will be exhibited at the British Ambassador's residence for the closing event.
Document information
Published: 22 January 2014