British officer honoured for leading Estonians in Helmand
The Commanding Officer (CO) of 2nd Battalion The Duke of Lancaster's Regiment (2 LANCS) has been awarded a top Estonian military honour for his part in leading the ISAF partner nation's forces in Afghanistan. Report by Lorraine McBride.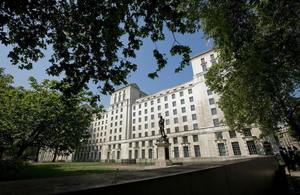 In August 2010, 2 LANCS, dubbed the 'Lions of England', and an Estonian Army unit served alongside each other as they established a new Combined Force in northern Nad 'Ali.
That tough and arduous four-month tour came as part of the 2 LANCS' mammoth 15.5 months as the Theatre Reserve Battalion, based in Cyprus. During this time, six of the battalion's soldiers were killed and 24 injured over six deployments; a stark statistic that underlined the sheer scale of the challenge.
Yesterday, Monday 23 May, 2 LANCS' CO, Lieutenant Colonel Robbie Boyd, was presented with a prestigious and rare Estonian Defence Forces Meritorious Service Cross by the Commander of the Estonian Defence Forces, Lieutenant General Ants Laaneots, in honour of his contribution to leading nearly 700 ISAF soldiers and around 300 members of the Afghan National Security Forces during the battalion's time in Helmand.
Combined Force Nad 'Ali (North) formed up on 5 August 2010. In addition to the attached arms of artillery, engineers, military police, logisticians and Afghan partners, the Force comprised a Rifle Company Group from 2 LANCS, one from its sister battalion, 1 LANCS, and an Estonian Rifle Company, serving side by side.
The Estonian Rifle Company, Group 10, quickly won plaudits for their tenacity and professionalism, and they were soon dubbed the 'Lions of Estonia' by soldiers of 2 LANCS. Lt Col Boyd said:
We deployed as the first troops tasked by the new coalition government to establish a Combined Force in northern Nad 'Ali, central Helmand, with international partners.
"It was the longest operational tour as the Theatre Reserve Battalion in contemporary history," he added, explaining that this was due to repeated extensions.
As part of that Combined Force, Lt Col Boyd says that he was 'lucky enough' to lead 150 Estonians under his command in Afghanistan for four months before handing over to 3rd Battalion The Parachute Regiment.
Lt Col Boyd spoke with immense pride of the achievements and strategically important role of the Estonians:
They were absolutely outstanding," he said. "They are very professional soldiers, very courageous, very determined in battle when they need to be, and showed great compassion to the Afghan people in their area.

The fact that the Estonians have stood with us throughout, during tough times as well as the good times, means we have seen progress made, particularly during Operation MOSHTARAK. It is an absolute credit to them as a smaller nation.
The medal presentation took place at Lancaster House in London at a lunch attended by the Chief of the Defence Staff, General Sir David Richards; Chief of the General Staff, General Sir Peter Wall; the Estonian Ambassador and Defence Attache; and Lt Col Boyd's Regimental Sergeant Major, Warrant Officer Class 1 Chris Rowlandson.
Delighted with his honour, Lt Col Boyd underlined his gratitude and thanks to his battalion, who have served closely with the Estonians:
The award is as much for them as for myself," he began.

I'm absolutely flattered frankly, because I'm a great believer that the Afghan campaign will be successful because of its multinational nature. The world is standing against a threat attempted by a nasty element that is the Taliban, and the fact that the world is standing very firmly against them really does show that we are likely to be successful.
Since the end of 2 LANCS' Afghan deployment as Theatre Reserve Battalion last October, Lt Col Boyd has returned to Cyprus alongside his infantry troops, where they are now engaged in security tasks in Episkopi. In late August, they will return home to Weeton, near Blackpool.
Published 24 May 2011