British NGOs working in partnership in Peru
British NGOs supported by DFID have produced a bulletin describing their joint efforts to tackle discrimination and inequality.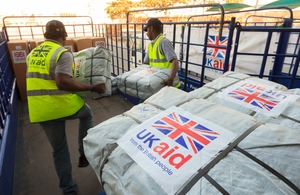 British NGOs supported by DFID through the Latin America Partnership Programme Arrangement (LAPPA) and other mechanisms have produced a bulletin describing their joint efforts to tackle discrimination and inequality in the poorest regions of Peru.
Peru's poorest and most remote regions face similar levels of deprivation to some of the poorest countries in Africa:
The population below the poverty line in Huancavelica (77.2%) is higher than in Sierra Leone (70.6%);
The district with the lowest HDI (Human Development Index) in Peru, Yurúa (0.440), has similar levels of human development to Liberia (0.442);
A higher proportion of people lack access to safe water in the region of Loreto (37.2%) than in Uganda (36%);
Stunting in the region of Huancavelica (53.6%) is similar to Burundi or Malawi (53%).
British NGOs working in Peru have adopted three main strategies in their efforts to contribute effectively to reducing poverty and inequality:
Implementing initiatives that have a significant impact on the most excluded groups;
Influencing public policy, to improve government policy, spending and programmes;
Cooperating on joint initiatives, to share learning and maximise impact.
The bulletin provides a snapshot of the work of British NGOs in a number of key sectors including health and education, food security and climate change. The efforts of different coalitions supported by CARE, Plan, Save the Children and World Vision, for example, have contributed to increases in public spending in social programmes and to improvements in key national indicators, such as:
A fall in chronic malnutrition in children under five from 28% in 2005 to 23.8% in 2009;
A reduction in maternal mortality from 185 per 100,000 live births in 2000 to 103.3 in 2009.
Together, British NGOs are making significant and sustainable improvements in the lives of the poorest Peruvians, as well as providing important lessons for efforts to tackle inequality and exclusion elsewhere in the world.
Published 18 November 2010