World news story
British Navy humanitarian aid ship to visit Puerto Barrios, Guatemala
One of the UK's naval humanitarian aid and logistic support ships will be visiting Puerto Barrios, Izabal over the weekend 10-13 March.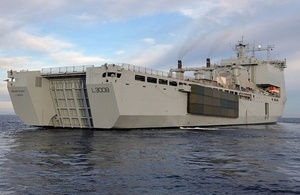 It will be the first visit by a British Navy ship in over 15 years. The purpose of the visit is to share experiences of delivering humanitarian aid and support to disaster relief operations in the Caribbean Basin with her Guatemalan hosts.
In this short stay, the ship called Mounts Bay of the Royal Fleet Auxiliary is intending to host both Guatemalan Navy and Marine Infantry on board to discuss their experiences from Hurricane Irma last year, which brought devastation to many islands in the east of the Caribbean. Representatives from Coordinadora National Para La Reducción de Desastres (CONRED) are also expected on board.
For the British Government, the ship provided not only the immediate response directly after the hurricane passed but also became the floating base from which the British Armed Forces operated to restore power and essential services to the islanders of Anguilla and the British Virgin Islands.
Specifically in the British Virgin Islands, the ship deployed over 200 troops to the island – including engineers, medics and marines to work with the local police to provide security and get the airfield operating in order to get more aid and personnel in. In Anguilla, RFA Mounts Bay delivered 6 tonnes of emergency aid, rebuilt and secured the Emergency Operations Centre and restored power to the hospital having deployed over 70 military personnel on the ground.
The ship visit also allows an increased deepening of UK – Guatemalan defence relations. The ship will be host to a visit of 42 Naval Cadets over the weekend that will spend the night onboard to better understand the role and capabilities of this type of ship. They will also deliver some training in fire-fighting techniques and flood control onboard for the Navy.
The ship measures 177 metres in length and has a masthead height of 41 metres. Its crew number 28 officers and 53 enlisted sailors. It has accommodation capacity on board for an embarked military force of over 700 marines. The ship can also embark helicopters and landing craft to assist in operations that are housed in its internal dock.
The ship routinely carries cargo for humanitarian aid and disaster relief consisting of various vehicles, trailers, tools and equipment. Due to its size (16,100 tonnes), the ship will anchor off the port for the weekend as it does a routine patrol through the waters of the western Caribbean.
Published 7 March 2018