British National Henry Djaba detained in Libya
The Evening Standard published a story on 8 November about the unlawful detention in Libya of a British National, Henry Djaba.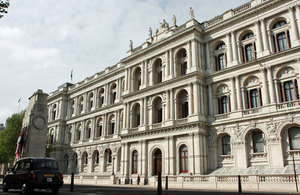 The article contains allegations that the Foreign & Commonwealth Office (FCO) "did nothing" to assist Mr Djaba, allegations that have since been repeated on the internet, alongside unfounded claims about the FCO's motivations in this case.
The FCO completely rejects these allegations. They are unfair and offensive. We raised Mr Djaba's detention with the Libyan Government in the same way as we would with any British National in similar circumstances.
From the moment we were informed of Mr Djaba's disappearance in April 2010, we consistently raised his case with the Libyan Government at every possible opportunity, and at senior levels, urgently asking for clarification of Henry's whereabouts and the charges against him, requesting consular access and reminding Libya of its obligations under the Vienna convention.
The Prime Minister, Foreign Secretary and Minister for the Middle East all raised Mr Djaba's detention with the Libyan authorities. Following those efforts,we were finally given access to Mr Djaba in September, and could then provide him with full consular assistance.
We have made clear to the Libyan government our concerns with the length of time it took for us to be given consular access. We kept in regular contact with Mr Djaba's family throughout and shared with them all the information we had at the time. Following his release and return to the UK, Mr Djaba has met officials and given us permission to raise his mistreatment with Libyan authorities, which we are taking forward as a matter of priority.
Published 11 November 2010