British Muslims visit Afghanistan
A delegation of British Muslims recently visited Afghanistan to challenge misconceptions about the reality of life for Muslims in Britain.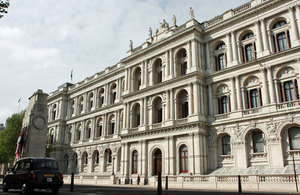 The visit also gave them the opportunity to learn how the British Government is contributing to the international effort to stabilise Afghanistan.
The delegation went as part of the Projecting British Muslims project and consisted of Haji Mohammad Siddique Yakrang Dawlatzai, Imam Asim Hafiz, Dr Usama Hasan and Mufti Yusuf Akudi.
During the visit to Afghanistan the delegation were given the opportunity to visit Kabul, Lashkah Gah and were able to glimpse life on the front line in Nad e Ali.
During an evening event in Kabul the delegates met the Deputy Ambassador, embassy staff and two communication advisors to the Minister responsible for the Afghan Peace and Reconciliation Programme. The delegation discussed the current political situation in Afghanistan and how to approach peace at a governmental level. Imam Asim Hafiz commented:
"It was interesting to learn from these communication advisors that support for the Taliban still exists amongst many Afghans because there was still a lot of work to be done around providing security in many areas, and the Afghan government along with ISAF [International Security Assistance Force] are working tirelessly to provide this security."
While in Helmand Province, on a visit to Helmand Police Training Centre, Haji Mohammad Siddique Yakrang Dawlatzai held an impromptu lecture to a group of 50 police recruits. One of the key features of training that the recruits receive is the development of Afghan National Police (ANP) Values and Standards as appropriate with Afghan culture.
The delegates also held a meeting with the director of Hajj. The delegates learnt that since the director had brought an Afghan delegation to the UK after a previous Projecting British Muslim trip, the membership for his scholarly council had increased from 38 to 312 as he was able to accurately inform audiences of life as a British Muslim. This was a real inspiration to the delegation.
At Lashkar Gah Main Prison the delegates had the opportunity to speak to inmates. The members of the delegation were impressed with the size and facilities of the Prison, modelled on a UK prison, Mufti Yusuf Akudi commented "…despite the situation in Afghanistan the prison conditions were encouraging."
During a trip to a mosque in Nad e Ali, the delegation were welcomed by senior religious leaders and held open dialogue. The visit was a pioneering and groundbreaking effort of international religious engagement in a sensitive location. The elders demonstrated their solidarity by holding iftar with the delegation that evening. Mufti Yusuf highlighted the success:
"Looking back over two decades in the UK, when interfaith meetings and visits to places of worship first began, such initiatives for mutual understanding and dialogue were met by resistance. We should therefore be hopeful and continue this effort".
The Projecting British Muslims project is part of a process of developing and building relationships between Afghans and Britons. The way has been paved for a subsequent reciprocal visit by Afghan scholars to the UK, and for future UK delegations returning to Afghanistan. As an accompanying Foreign Office official stated:
"These events should not be seen as standalone one-off expressions of affinity and solidarity but rather as a series of confidence-building steps which foster mutual respect and extend influence."
Published 6 September 2010