British Museum to host Afghan Artefacts
Minister Rahin, the Minister for Culture, signed an historic document that will further cultural understanding and exchange between Afghanistan and the UK. British Ambassador Sir William Patey witnessed the historic agreement.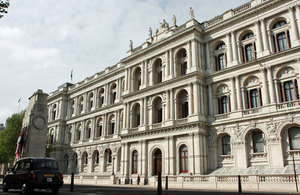 The document was an agreement between the Afghan government and the British Museum for the loan of a collection of Afghan artefacts for display in London in Spring 2011.
The artefacts were rescued from destruction during the civil war and were hidden in vaults around Kabul during the Taleban regime. They include a large collection of Bactrian gold comprising jewellery, crowns, statues and coins. They were rediscovered in 2003 in the palace vault and, starting in Paris in 2006, have been exhibited around the world.
They will be displayed in the British Museum from March 2011 under the title "Afghanistan: Crossroads of the Ancient World", a title that draws attention to Afghanistan's role as a conduit between East and West and the diversity of its cultural heritage.
Sir William Patey said of the exhibition: "There's an incredible story attached to these beautiful artefacts - saved from destruction during the civil war and the Taleban regime and hidden in secret vaults in Kabul. Now they're being displayed all over the world. It's fantastic news that they're going to the British Museum in the spring. Sadly, in UK minds, Afghanistan is synonymous with war, poverty and hardship and all those things are present in varying measures in different parts of the country. But Afghanistan is also a country with a fascinating history and a rich cultural heritage about which the Afghan people are, justifiably, proud. The fact that these artefacts were saved and preserved by brave and dedicated Afghans, who are now generously sharing them with the rest of the world, shows another, more positive, side of Afghanistan and shows that the country is far from being a lost cause."
Published 4 November 2010