World news story
British Minister visits Ghana
Rt Hon Desmond Swayne MP, visits Ghana to further bilateral relations between the UK and Ghana.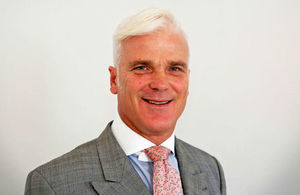 UK Minister of State for International Development, Rt Hon Desmond Swayne MP, will visit Ghana this week to further bilateral relations focusing on good governance and Ghana's commitments ahead of the UK summit on anti-corruption and Ghana-UK collaboration.
During his visit the Minister will announce UK's new £4 million programme aimed at supporting both Ghana's state and non-state institutions to strengthen democratic governance and to promote free, fair, peaceful and credible general elections in November.
Minister Swayne will also visit the Western Region to see DFID-funded projects and hold meetings with key interlocutors in the oil and gas sector. He also hopes to call on HE President John Dramani Mahama and the Minister for Petroleum.
Speaking on arrival in Ghana, Desmond Swayne said:
"I'm delighted to be here, on my first trip to Ghana. I am very much looking forward to discussing with Government, civil society, community leaders and business representatives how the UK and Ghana can work together to strengthen governance and promote economic development. I am particularly looking forward to spending time in Western Region to understand the opportunities that the oil and gas industry is opening up for communities there".
Notes to editors
The UK is a committed partner in Ghana contributing £300 million from 2011/12 to 2015/16. We have distributed 5.5 million bed nets, supported 140,000 children in basic education, assisted 170,000 of the poorest people through cash transfers, and supported 550,000 women with family planning. By the end of 2015-16 we will also have helped keep 80,000 girls in secondary school and 30,000 producers to access business services.
The UK has contributed to five consecutive free and fair elections in Ghana over the last two decades, investing over £6 million in 2012 to support the requirements of key Electoral Management Bodies.
Rt Hon Desmond Swayne MP is the Minister of State for International Development responsible for the UK's development partnership with Asia, Overseas Territories and Western Asia (including Eastern Europe), Middle East and North Africa Conflict, humanitarian, security, governance and anti-corruption Economic development (Private Sector, Trade and International Financial Institutions) Scotland engagement. He was appointed as Minister of State at the Department for International Development on 15 July 2014. Previously, he served as Parliamentary Private Secretary (PPS) to the Prime Minister, Government Whip and a Privy Counsellor. He was elected Conservative MP for New Forest West, in Hampshire, in 1997. Further information is available here.
Published 5 April 2016