World news story
British minister on fact finding trip in New Zealand's Wairarapa
The weekend was spent in rural New Zealand reviewing the success of the tuberculosis battle.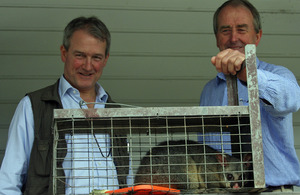 Britain's Secretary of State for the Environment, Owen Paterson spent a weekend in New Zealand's rural hinterland looking at how the country has successfully battled tuberculosis in its cattle herd.
He went to the tiny village of Tinui to meet everyone from the Chairman of New Zealand's animal health board to the local possum trapper. In New Zealand possums are the key vector for the spread of tuberculosis into cattle and deer herds.
Britain is currently planning two pilot culls of badgers as part of the measures to contain a rapidly growing TB crisis in its own domestic cattle herd.
Mr Paterson said:
the weekend was invaluable as it was a rare chance to see a successful TB control programme in action.
The minister also visited horse studs and vineyards.
Published 15 April 2013