World news story
British Minister of Trade and Investment to visit Cambodia
Lord Green, Britain's Minister for Trade and Investment is on a two week visit to South East Asia and will visit Cambodia on 10 June 2013.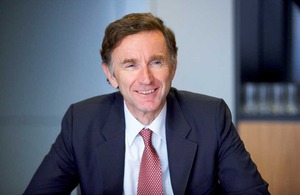 His visit is to promote opportunities for British businesses and is part of a wider effort to enhance the support available to British companies to start trading in Cambodia and build on their existing activity. That support has included opening of the UK Trade & Investment Office in the British Embassy in Phnom Penh in January 2013.
During his visit Lord Green will meet Prime Minister Hun Sen and the British Chamber of Commerce. He will also be announcing the launch of a new British Alumni Association of Cambodia, and will visit British companies Prudential (large multinational insurance company that opened earlier this year), Quantum Clothing (the largest UK garment manufacturer in Cambodia), and Vattanac Capital where eight British companies have contributed to design and construction.
Speaking before his visit to the region, Lord Green said:
With so many high growth and emerging markets, South East Asia presents an enormous opportunity for UK goods and services. Through our global network UK Trade and Investment is able to give UK businesses intensive support.
His Excellency Mark Gooding, British Ambassador to Cambodia said:
Trade between UK and Cambodia reached $750million in 2012 and continues to grow. It is up 24% already in the first quarter of this year, compared to 2012. Our new UKTI office is fully operational and already has a significant list of clients in Cambodia or British companies interested in this market. Lord Green's decision to visit Cambodia during his mission to South East Asia underlines the strong links and the potential for more trade between our two countries.
Background
Key facts:
The UK is present in all ASEAN countries since the British Embassy was reopened in Laos in November 2012, and has UKTI offices in nine of them.
UK exports of goods only to ASEAN in 2012 were £8.9bn. An increase of 15% on 2011. UK imports of goods from ASEAN in 2012 were £12.62bn.
Trade between UK and Cambodia in 2012 was approx $750million, up 27% compared to 2011.
The UK's export to Cambodia in the first quarter of this year increased 119.2% to £ 7.7 million (USD 11.7 million).
The UK's major exports to Cambodia in 2012: vehicles, textile yarn and fabric, machinery, and medical and pharmaceutical products.
The UK's major imports from Cambodia in 2012: garment, footwear, sugar, and cereal.
The Cambodian Chamber of Commerce made their first official visit to UK in September 2013 and met with UKTI and British businesses.
During his trip Lord Green will visit 7 ASEAN countries, stopping in Jakarta, Kuala Lumpur, Singapore, Phnom Penh, Ho Chi Minh City, Hanoi, Bangkok, Rangoon and Naypyidaw.
UK Trade & Investment (UKTI) is the government department that helps UK-based companies succeed in the global economy. UKTI also helps overseas companies bring their high quality investment to the UK's economy – acknowledged as Europe's best place from which to succeed in global business. UKTI offers expertise and contacts through its extensive network of specialists in the UK, and in British embassies and other diplomatic offices around the world. They provide companies with the tools they require to be competitive on the world stage. For more information on UKTI, visit www.ukti.gov.uk or visit the online newsroom at www.ukti.gov.uk/media
Published 6 June 2013