World news story
British Minister for Universities visits OPTs
From:

Part of:

Published:

27 March 2014
This was published under the 2010 to 2015 Conservative and Liberal Democrat coalition government
Rt Hon David Willetts MP, British Minister for Universities and Science, visited the Occupied Palestinian Territories.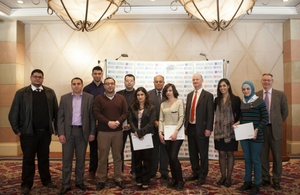 The UK Minister for Universities and Science, Rt Hon David Willetts MP, yesterday visited the Occupied Palestinian Territories accompanied by a senior delegation from a number of UK universities. The visit sought to foster British - Palestinian educational links and explore opportunities to strengthen and support the Palestinian Higher Education sector.
At the start of his visit, Minister Willetts held a roundtable meeting with the Palestinian Authority Ministry of Education and Higher Education team, and a number of Palestinian academics at the West Bank University of Bethlehem. The participants briefed the Minister on current issues facing Palestinian higher education. They also discussed future UK-Palestinian development opportunities in the sector.
Later, the Minister and the Palestinian Minister of Education and Higher Education Dr Ali Abu Zuhri hosted an award ceremony in Bethlehem for the Higher Education Scholarships for Palestinians (HESPAL) scholars. The ceremony celebrated the success of Palestinian scholars who have recently returned home from the UK, who shared many positive experiences of their time in the UK. The British Council's HESPAL scholarship Scheme aims to create the next generation of senior Palestinian academics who can maintain international quality standards at Palestinian universities and develop further sustainable links between Palestinian and UK universities.
At the end of his visit, Minister David Willetts said:
It's great to be back here and to meet many bright and energetic Palestinian academics and scholars. Britain is a strong and committed partner of Palestinian higher education. The HESPAL scholarship scheme is an excellent example of our steady and long term cooperation. Every year, a selected number of outstanding Palestinian academics- like those I have seen today- travel to the UK to study, bringing back home a wealth of knowledge and experience that helps develop Palestinian universities. I am delighted that the number of students taking part in the scheme has doubled since its inception in 2010. I would like to congratulate colleagues at the British Council for what is now the largest scholarship scheme sending talented Palestinians to study in the UK. And I am very proud that the UK offers such life changing opportunities to ambitious, dynamic and talented individuals who can creative positive change in the future. I would also like to extend my congratulations to the British Universities who are supporting this innovative and important scheme.
Alan Smart, British Council Director in the Palestinian territories, also said:
I was delighted that David Willetts was in Bethlehem today to meet Palestinian academics, and present them with their HESPAL certificates.

The British Council's HESPAL scheme is successfully building the skills and capabilities of the next generation of Palestinian academic leaders by supporting their professional development. The scheme is also fostering closer educational links between Palestine and the UK, to help and encourage the long term growth of the Higher Education sector in Palestine. This scheme is part of our larger support and commitment for Palestinian educational development undertaken in conjunction with our partners in the Palestinian Ministry of Education and Higher Education and UNRWA.

David Willetts's attendance, and that of HE Dr Ali Abu Zuhri, Palestinian Minister of Education and Higher Education at the ceremony, demonstrate both countries' commitment to growing closer academic ties, to build skills and educational opportunities.