World news story
British Minister calls on international community to work together to tackle Burma's 'forgotten crises'
Minister Alan Duncan recently met with government, ethnic and civil society representatives to discuss UK's role in promoting peace and combating poverty in Burma.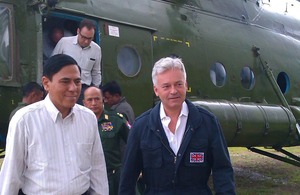 Greater efforts must be made to help vulnerable people at risk from flooding and disease in Burma's Rakhine and Kachin States and support peace talks to resolve Burma's inter-communal conflicts, Development Minister Alan Duncan has said on a visit to Burma.
During a four day visit, the Minister from Department for International Development (DFID) – the UK Department responsible for leading the UK government's fight against world poverty – met senior government ministers, Daw Aung San Suu Kyi, ethnic leaders and civil society representatives. The focus of these discussions was on how the UK can help to support peace talks to resolve Burma's conflicts and help with the country's continued development.
During a visit to Rakhine, one year on from the start of violence that has seen 140,000 mostly Rohinga Muslims displaced from their homes, the Minister saw how British support has already helped to combat the effects of monsoon rains by providing urgently-needed clean water, sanitation facilities and nutritional feeding for infants for more than 80,000 people.
Alan Duncan said:
The situation I have seen in Rakhine today is getting desperate. The monsoon rains have started with some families still living in tents, exposed to the elements and at serious risk of flooding and disease.
The plight of those in Kachin is equally worrying. Humanitarian agencies in both Kachin and in Rakhine are doing what they can under difficult circumstances, but it is simply not enough. Sustained access to all people is critical.
UK humanitarian support is already making a difference and we are actively looking at what more we can do, but now the international community must wake up to these forgotten crises and come together to find lifesaving support and a lasting solution.
The communities too must also work together towards a peaceful resolution so that people can return to their homes. In particular, the Rohinga people must be allowed to enjoy their universal rights to health, education, and livelihoods - they are currently restricted from doing so, and this hugely affects their prospects.
The Minister also raised the plight of the 80,000 people in Kachin who still cannot return home as a result of violent conflict. The UK is currently the largest bilateral humanitarian donor to Kachin State.
Notes to editors
British support to Rakhine now totals £6.4 million. £4.4 million announced in May 2013 is providing:

nearly 80,000 people with access to safe drinking water and improved sanitation facilities.
malnourished children aged 0-59 months with treatment for acute malnutrition in rural camps.

hygiene kits to nearly 40,000 people.

British support in Rakhine is being delivered by a consortium led by Save the Children, along with Solidarites, Action Against Hunger (ACF), and the Consortium of Dutch NGOs

The UN's current Rakhine response and preparedness plan needs US$80 million to meet the needs of 115,000 displaced people until the end of June. The plan was 83% funded as of 13 June, with $14 million still urgently needed to implement camp management, water and sanitation, and other activities to help people survive the monsoon season.

In December 2012, the UK announced an additional £1.5 million of humanitarian support for people displaced by the conflict in Kachin. This takes the total support provided to £3.5 million with the UK the largest bilateral humanitarian donor to Kachin State.

The UN's Kachin response is currently funded with US$ 13.9 million (27.4%) of the $50.9 million it needs to meet people's humanitarian needs.

There has been recent progress towards an ending of hostilities between the Kachin Independence Organisation (KIO) and the government. Political dialogue will be essential if the plight of those affected by generations of conflict is to be improved.

Last week week, the first UN international aid convoy for almost a year was able to deliver humanitarian assistance in non-government controlled areas in Kachin state. Regular and sustained access for more humanitarian aid is needed to all areas of the state.

The UK is one of the largest bilateral donors to Burma, with a programme of over £180 million from 2011 – 2015. This is focused on areas such as health, education and wealth creation, as well as humanitarian aid to those affected by conflict.
Published 20 June 2013