British military training estate strengthens overseas links
The Defence Training Estate (DTE) has hosted a visit from the Bundesforst - Germany's equivalent of the Forestry Commission - who play a key role in facilitating pre-deployment training for British Forces stationed in Germany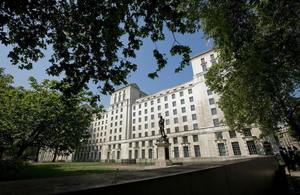 The Bundesforst are responsible for rural estate management activities on German training areas used by the British Armed Forces. With their work bringing them into regular contact with Defence Training Estate teams, the organisation requested a study visit to the UK to gain insight into how DTE manage UK military training areas.
Correct rural estate management of military training areas is crucial to ensuring that DTE meet statutory requirements. In turn, this means they can remain open and operational for preparing the Armed Forces for deployment to Afghanistan.
Alan Patterson of the British Forces Liaison Organisation (Germany) accompanied the Bundesforst delegates on their trip. He said:
These were important visitors for the UK Forces in Germany. All of the training estate British Forces Germany uses in the Federal Republic is loaned to us by the German Government, and we must work closely with the Bundesforst, who are effectively our landlords.
The working relationship is already excellent and this well thought-out and highly successful visit improved it even further. At the end of the day, it is this successful working relationship that - quite literally - prepares the ground for the essential training that British troops need for the dangerous operations they are currently engaged in.
The programme of visits hosted by DTE for the Bundesforst incorporated DTE sites in Southern England, starting with a visit to DTE Salisbury Plain.
Representatives from the Bundesforst also made trips to DTE Lulworth and Bovington, where they were able to observe cross-country driver training, and to DTE Home Counties, where they met with stakeholders including Natural England and Surrey Wildlife Trust.
Axel Schulze-Bierback, head of the Bundesforst branch in Nurnberg said:
The visit left all the participants in no doubt over the huge competence DTE demonstrates in the course of its land management on the military training areas in Great Britain.
The successful partnerships between DTE, other British authorities and groups including Natural England and the Surrey Wildlife Trust, were very interesting for us to experience.
Published 4 August 2010