British judge joins International Criminal Court
British judge Howard Morrison was sworn in to the International Criminal Court on 9 March.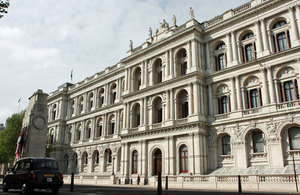 Judge Morrison currently serves as judge at the International Criminal Tribunal for the Former Yugoslavia (ICTY) where he sits on the Karadzic trial, and will formally take up his ICC role after his ICTY commitments are fulfilled. British Judge Mr Justice Fulford, who has stood as an ICC judge since 2003 when the Court was first inaugurated, will be retiring from the court in the near future.
Judge Morrison will serve a 9-year term, and his appointment ensures that there will have been continual British presence on the Court's judicial panel from the establishment of the Court until at least 2021.
The British government is a strong supporter of the work of the Court in combating impunity, and the appointment of high-quality judges from the judicial systems of the United Kingdom is testimony to our continuing commitment to an effectively run Court.
Speaking on his appointment, Judge Morrison said:
"I am delighted to be appointed as an ICC judge at such a crucial time in the Court's development. The Court's first verdict is expected in the next few days, which will help further cement the Court's role in the international justice system. I look forward to working with my fellow judges to ensure that the ICC operates as a balanced, independent Court, bringing fair and timely justice to the victims of the most serious crimes".
Published 12 March 2012