World news story
British innovation shifts into high gear at the Formula 1 Grand Prix du Canada in Montreal
From:

Part of:

Published:

30 May 2014
This was published under the 2010 to 2015 Conservative and Liberal Democrat coalition government
British Consulate-General and UK Trade & Investment announce a series of events leading up to the Grand Prix weekend.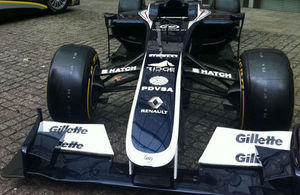 Formula 1 is taking over Montreal in advance of the Grand Prix du Canada.
With the majority of the race teams based in the UK, British ingenuity and expertise will be on full display. British High Commissioner Howard Drake will be on hand to mark the week with a series of events aimed at celebrating the UK's innovative spirit, a tradition that rests at the very heart of motor sport.
The High Commissioner said:
"For those few days 500 million people around the world are looking at Canada, and Montreal specifically. It is an important occasion for Montreal, and given Britain's position in Formula 1 we're interested in looking at the race from a different perspective."
"For me, this premier auto racing event sits at the heart of a series of global connections. It is enthused with a winning entrepreneurial spirit. It is a technology cluster. And critically, its epicentre is Britain. That is what we're looking to explore and celebrate with our friends across the race community and across Canada."
With 8 of the 11 Formula 1 teams based in the UK, and 75% of global motorsport research and development (R&D) taking place in the UK, Britain is the international hub of racing car technology developments. The lessons learned from driving performance on the track are spinning out to support other sectors too, with technology transfer and collaboration playing an ever greater role. For example, the Williams Hybrid Power developed electric flywheel energy storage systems for commercial use, including many buses and tram systems.
Working with a number of the race teams and friends across Montreal, the British Consulate-General and UK Trade & Investment have organised a series of events leading up to the Grand Prix weekend, including a sold out Young Entrepreneurs Workshop at the John Molson School of Business.
Other events include:
a GREAT Tech Talk at the Halls of the Old Port and Montreal Science Centre, Thursday 5 June between 11am to 1:30pm. Matt Strachan of Sahara Force India and Graeme Lowdon of Marussia will explore the question why Formula 1 matters.
"The GREAT Grand Prix Gala", Friday 6 June between 6pm to 8pm. This VIP reception At the W Hotel Montreal will be hosted by the British High Commissioner to Canada with invited guests from the worlds of business, media, politics and sport.
For more information about attending these events please contact:
Notes to editors:
Partners
The British Consulate-General in Montreal is grateful for its partnership with: HSBC, Lloyd's Canada, Fasken Martineau, MINI Laval and its ad agency DeNinno, Green & Black's Organic and John Molson School of Business.
Formula 1 Fast Facts
16 of the cars in this year's 22-strong Formula 1 grid are made in "Motorsport Valley", a 100-mile crescent stretching from Surrey to East Anglia via Oxfordshire.
8 of the 12 Formula 1 teams are based in Motorsport Valley.
75% of global motorsport R&D takes place in the UK.
Motorsport Valley includes at least 3,500 small and medium-sized firms, many family-owned, with 40,000 employees and global sales of £7 billion.
Formula 1 cars are made up of 80,000 components, if they were assembled 99.9% correctly; they would still start the race with 80 things wrong.