World news story
British innovation comes to Peru to help the environment
UK Company, Fairey Industrial Ceramics Ltd, introduces its British Berkefeld ceramic filters to Peru to revolutionize the way we drink water.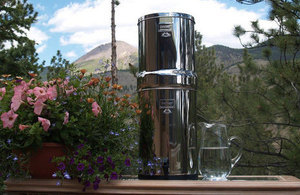 British Berkefeld Gravitational Filters are popular in many homes and businesses worldwide. Its simple and innovative water filtration system is eco-friendly because it does not require electricity and does not generate waste. It allows people to access safe clean water, without risk of consuming pollutants. Furthermore, it is an alternative to plastic bottles and cans that pollute the environment.
Another advantage is that, unlike conventional filters placed directly at the source of water, British Berkefeld filters can last longer with an estimated lifetime of 6 months. This has the additional advantage that it is not necessary to acquire parts so often and there is no risk of drinking contaminated water. The product is ideal for both families and businesses looking for a healthier and more profitable option to provide better water quality in their homes and offices. To reduce costs and the amount of related to the use of waste plastic bottles.
This simple, economical and healthy solution has proved very useful for various international aid agencies working with populations that have limited access to clean water. An example is the "Clean Water" project of the Christian Hope International organization.
If you want further information on the product or on how to purchase a British Berkefeld filter, please contact contact ventas@faireyperu.com.pe o contact www.faireyceramics.comt
Published 10 December 2013