Press release
British Indian Ocean Territory feasibility study
HMG commits to transparent, inclusive and fair British Indian Ocean Territory feasibility study.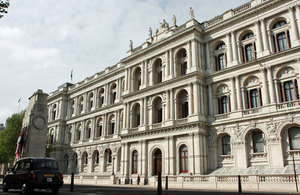 Foreign Office Minister of State, Mark Simmonds, today announced the next stage in implementing the Government's commitment to a new feasibility study on resettlement of the British Indian Ocean Territory (BIOT).
Following his Written Ministerial Statement, Mr Simmonds said:
We have made a constructive start to this important review of resettlement options with the publication of draft terms of reference. We have consulted extensively, including with members of the Chagossian community, and are committed to continuing these consultations as the study develops.

Resettling these low-lying islands after all these years presents some very big challenges. This study will look at the full range of options, with associated costs and risks. We make no promises about the study's ultimate conclusions, which will inform Ministers' decisions. But we do commit to ensuring the process remains transparent, inclusive and fair.
Further information
Follow Foreign Office Minister Mark Simmonds on twitter @MarkJSimmonds
Follow the Foreign Office on twitter @foreignoffice
Follow the Foreign Office on facebook and Google+
Published 19 November 2013