British High Commission's GREAT Debate competition comes to Lahore
The British High Commission brought its annual GREAT Debate competition to Lahore with a semi-final event at the FAST National University.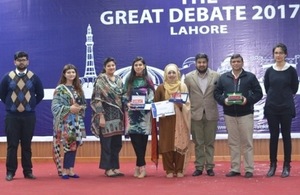 The event brought together debaters from across universities in Lahore. After a competitive round of fixtures Ms Mohiba Ahmed from Government College University and Ms Rameesha Khan from University of the Punjab were judged to be the winner and runner-up respectively.
The Acting British High Commissioner Richard Crowder said:
Colleges and universities in Lahore have a rich culture of debating and I am delighted that with the GREAT Debate we are able to provide another platform to the youth of this city.

I have been impressed by the level of debate and enthusiasm with which the youth have participated in the GREAT Debate and I look forward to a tough competition among the selected 14 debaters in the finale in Islamabad.
The GREAT Debate 2017 is the third annual edition of the competition that gives students from across Pakistan a platform to participate in debates, interact with other students from different universities and hone their skills in research, analytical thinking and public speaking.
Winners and runners-up from the semi-finals will be given one year British Council digital library membership. The winner and runner-up of the overall competition will receive a scholarship reward to contribute towards their tuition fees.
More information
The GREAT Debate is a debating competition for university students. There will be seven semi-finals – in seven different cities (Islamabad, Lahore, Karachi, Peshawar, Gujarat, Faisalabad and Mirpur) involving students from over 50 leading universities across Pakistan – and the winner and runner-up of each semi-final will compete in the final in Islamabad.
For updates on the British High Commission and for more information on the Chevening Programme, please follow our social media channels:
Contact
British High Commission
Islamabad
tel. 92 51 2012000

Published 13 February 2018