World news story
British High Commissioner's statement on UK-Zambia relations
British High Commissioner Fergus Cochrane-Dyet OBE responds to the Zambian government ministers' remarks following UK's referendum on EU membership.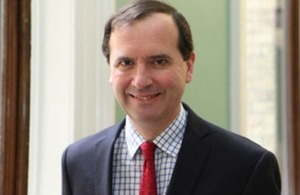 I welcome the statement by the Minister of Foreign Affairs, Harry Kalaba, following the UK's referendum on its membership of the European Union. The Minister said that, while Zambia would study its implications, the bilateral relationship between Zambia and the UK would not be affected.

In addition, the Minister of Commerce, Trade and Industry, Margaret Mwanakatwe, has offered reassurance to Zambia's business community about ongoing trade and investment between Zambia and both the UK and the European Union.

I am grateful to both Ministers for their timely and perceptive remarks.

Last week the British people voted to leave the European Union in one of the biggest democratic exercises in British history, with over 33 million people from England, Scotland, Wales, Northern Ireland and Gibraltar all having their say.

Leaving the EU will be a major change for the UK. But other fundamentals stay the same. The UK remains a globally engaged power. The UK remains the fifth largest economy in the world and a permanent member of the UN Security Council. The UK is a member of the G7, G20 and NATO – the only country that is a member of those three groups and spends both 2% of GDP on defence and 0.7% of GDP on development assistance (the latter enshrined in law). The UK has considerable influence, too, through culture, education, science and in many other fields. Like Zambia, the UK is a member of the Commonwealth.

The British Prime Minister, David Cameron, has spoken of his vision of a Britain that wants to be respected abroad, is tolerant at home, engaged in the world, and working with our international partners to advance the prosperity and security of our nation for generations to come. He has said that Britain is not turning its back on Europe, since European countries are our neighbours, our friends, our allies, and our partners.

There will be adjustments within the UK economy, complex constitutional issues, and a challenging new negotiation to undertake with Europe. However, Britain is ready to confront what the future holds from a position of strength. Britain has one of the strongest major advanced economies in the world and has low, stable inflation. The employment rate remains the highest it has ever been. The budget deficit is down from 11% of national income, forecast to be below 3% this year. The financial system is also substantially more resilient than it was 6 years ago.

The UK looks forward with confidence to maintaining its partnerships with the Zambian Government and with Zambian businesses in the years ahead.
For further information
Follow Mr Fergus Cochrane-Dyet OBE on Twitter @ferguscd.
Published 6 July 2016