World news story
British High Commissioner Visits the Northern Province
British High Commissioner to Sri Lanka James Dauris made his first official visit to the Northern Province from 27-29 May 2015.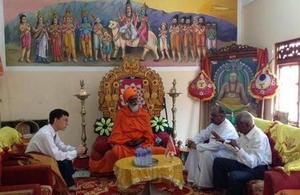 During his visit, he called on the Chief Minister of the Northern Province, C.V Wigneswaran; the Security Forces Commander in Jaffna, Major General Nandana Udawatta; the Acting Security Forces Commander in Mullaitivu, Major General Sudantha Ranasinghe; TNA MPs Suresh Premachandra and Siddharthan as well as Gajen Ponnambalam, the leader of the All Ceylon Tamil Congress; and the Government Agent, Mr. N. Vethanayahan. He visited the iconic Nallur temple and met Head of the Nallur Aatheenam and Dr. Aru Thirumurugan, Vice President of All Ceylon Hindu Congress. He also met Rt. Rev Thomas Saundaranayagam, the Bishop of Jaffna.
Mr Dauris visited newly resettled families in Valalai and Palaly South and the Keppapilavu relocation village, both being co-ordinated by the UNHCR. He saw, first-hand, how the UK-funded demining operation run by The HALO Trust in Muhamalai was clearing land of thousands of landmines so that it can again be used by local communities. At the Puthukkudiyiruppu Police Station, he saw how a programme run by The Asia Foundation was implementing good community policing practices and helping to prepare police officers to handle cases involving women and children. He also met the young team at the Sri Lanka Unites Reconciliation Centre in Mulliyawalai, working together to promote ideals of reconciliation and inclusivity.
The High Commissioner visited the modern British Council centre in Jaffna, where he saw how the UK promotes English language and cultural links and serves Sri Lankans who want to obtain UK qualifications, study and work in English or study in the UK. He toured the iconic Jaffna library and met staff and students. At the MAS Active Pvt Ltd factory in Vaanavil he saw how an operation that has been running for less than two years is now providing stable employment to more than a thousand local people.
Commenting on his visit, Mr Dauris said; "For me this has been a most useful and interesting visit. I have learned a lot from all kinds of people in very different positions and situations. Understanding the difficulties and opportunities, hopes and worries of people living in the north of Sri Lanka is essential for anyone in my sort of position. I was touched by the optimism and openness of so many people for whom events of past years have been so traumatic and who are, with good reason, looking forward to a brighter future."
To see the photos of the visit, please visit our flickr album.
Published 31 May 2015