World news story
British High Commissioner Visits sialkot
The British High Commissioner to Pakistan, Mr. Philip Barton CMG OBE, visited Sialkot.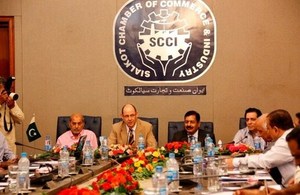 During his time in one of Pakistan's largest industrial hubs, the High Commissioner held a range of trade related meetings with prominent business leaders.
The British High Commissioner visited the Sialkot Chamber of Commerce and Industries and met officials including the Chamber's President, Dr. Sarfraz Bashir, to talk about potential trade opportunities for British firms. He also visited the Surgical Instruments Association of Pakistan and the M. H. Geoffrey & Company, famous for manufacturing Scottish Bagpipes, and Malik Sports, one of Pakistan's largest manufacturers of cricket and hockey equipment.
Speaking on his visit, the British High Commissioner to Pakistan, Philip Barton said:
I am very pleased today to be visiting the vibrant industrial city of Sialkot, the birthplace of Dr. Allama Muhammad Iqbal, the national poet of Pakistan. This city has an important trading role in Pakistan's economy and after Karachi ranks second in earning foreign exchange through its exports and remittances.
I have been impressed by Sialkot's business leaders, striving to boost Pakistan's economic and trade links with the world. The businesses community in Sialkot can use the United Kingdom as a springboard to access the wider EU market, after the signing of a trade agreement under GSP+. The innovative products manufactured by skilled artisans here are also famous around the UK. The Scottish bagpipes produced by M. H. Geoffrey & Company are one example of the strong cultural and business links between the UK and this part of Pakistan.
After the memorable London 2012 Games in the UK, Scotland is all set to host another major sporting event in July: the Glasgow 2014 Commonwealth Games. I wish team GB and team Pakistan all the very best for the Commonwealth Games.
Contact: Press Attaché, British High Commission, Islamabad; tel. 0300 500 5306
Published 26 June 2014