World news story
British High Commissioner visits Multan to see UK's work towards supporting women and girls
Mr Drew visited DfID-supported initiatives, including a Government Girls School, the Benazir Income Support Programme (BISP), a DAFPAK family planning centre, and the Violence Against Women Centre.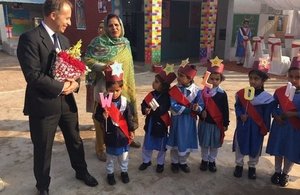 The UK is a strong supporter of women and girls in Pakistan. The UK's Department for International Development (DfID) is working to ensure that girls stay in school longer and learn more. Since 2011, DfID's work has helped 2.4 million girls complete their primary school education.
While addressing the beneficiaries at the BISP centre, the High Commissioner expressed his pride for the UK's support to BISP, which empowers the very poorest women to feed their families and access basic services like health and education.
He was also pleased to see the services being provided at the DAFPAK family planning centre, and committed to continuing UK support for safer childbirth, women's nutrition and family planning.
He also visited the Violence Against Women Centre which is part of the UK's effort to empower women and minority groups by strengthening their political voice. Through this programme, since 2011, more than 3300 female youth leaders have been empowered to challenge discriminatory norms in their communities across 4500 villages in 45 districts of KP and Punjab.
In addition, Mr Drew called on Shah Mahmood Qureshi, Yusuf Raza Gillani and Hina Rabbani Khar and the Multan Chamber of Commerce and Industry.
More Information
For updates on the British High Commission's 70th Anniversary of UK – Pakistan relations and for more information on the Chevening Programme, please follow our social media channels:
Contact
British High Commission
Islamabad
Tel: 92 51 201 2000

Published 7 March 2018