World news story
British High Commissioner Pretoria hosts Commonwealth Event
The event discussed the Commonwealth and the forthcoming Commonwealth Heads of Government Meeting (CHOGM).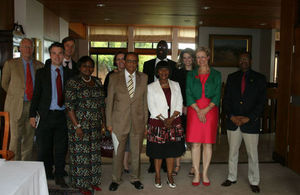 The Government of Sri Lanka will host the biennial Commonwealth Heads of Government meeting between 15-17 November 2013. His Royal Highness, the Prince of Wales will represent HM The Queen, the current Head of the Commonwealth. Heads of State and Government from Commonwealth countries will attend a range of meetings, with participation from youth, business and civil society.
On Thursday 7 November the British High Commissioner, HE Mrs Judith Macgregor, hosted a meeting for South African Government and non-government representatives, as well as High Commissioners from Southern African countries, to discuss the Commonwealth and the forthcoming Commonwealth Heads of Government Meeting (CHOGM).
This event provided an opportunity to discuss the key priorities at CHOGM and the issues which will be covered by the CHOGM Communiqué, which will be agreed by Commonwealth Leaders in Sri Lanka. The High Commissioner's event therefore offered an excellent opportunity to exchange views on a diverse range of issues on the Commonwealth agenda.
All participants expressed their support for the Commonwealth, its shared history and common values. There was agreement that its unique strength was its diversity – both in terms of geography and development. The Commonwealth's policies are shaped by member countries, all of whom have an equal say on the decision making process. The importance of promoting development in all member countries and combating challenges, such as sexual violence in conflict, climate change and illegal wildlife trade, were highlighted by participants at the High Commissioner's lunch.
For many the Commonwealth is symbolised by the Commonwealth Games, which is being hosted by the city of Glasgow, Scotland starting in July 2014. The Queen's Baton relay (the Commonwealth equivalent of the Olympic Torch Relay) has already begun. The baton will travel to all Commonwealth countries before the start of the Games, and will be in South Africa, Lesotho and Swaziland in February 2014. The Commonwealth Games will aim to follow-up the success of the London 2012 Olympic Games and its legacy, especially youth development.
2014 will also mark the centenary of the start of World War I, when many soldiers from across the Commonwealth paid the ultimate sacrifice to protect freedom and democracy across the world. Their contribution to safeguarding these important values that are central the Commonwealth will never be forgotten.
For more information on CHOGM please see http://www.chogm2013.lk Information on the Commonwealth, its organisations values and activities is available at www.commonwealth.org
Published 12 November 2013