World news story
British High Commissioner optimistic about Pakistan's future
British High Commissioner, Mr. Thomas Drew CMG met political, business and senior media figures to discuss the current situation in Punjab during his visit to Lahore.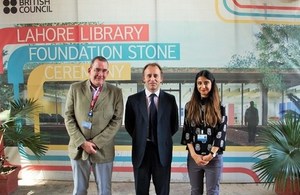 They discussed security, the economy and the UK's relationship with Pakistan. He also visited the new Nishat Emporium Mall and the Punjab Commission on the Status of Women to see the Gender Management Information System at work. His visit reinforced his sense of a vibrant city, despite Sunday's bomb attack, on the up.
In addition he toured the site of the new British Council library and met staff from the British Council and the Department for International Development. He heard further examples from them of the UK's work in Punjab.
Commenting on the final day of his visit the British High Commissioner, Mr. Thomas Drew CMG said:
Despite last Sunday's tragic attack, my visit to Lahore has reinforced my sense of optimism for Pakistan's future.
Yesterday, the Chief Minister and I discussed the strength of the UK and Pakistan's relationship. Today, I have seen evidence of our partnership first hand. I was impressed to hear about UK-Pakistan collaboration in the construction of the Emporium Mall, where the architect and project manager are British.
Touring the site of the new British Council Library, I saw the plans for a new 21st century facility on the site of the old British Council library. This library, I know, is well remembered in Punjab for its learning and cultural opportunities. I am delighted that the new library will open shortly to be enjoyed by the next generation of Pakistanis.
At the Punjab Commission on the Status of Women I had the opportunity to hear more about the challenges facing women in Punjab. The work the Punjab Government is undertaking to enact new laws for the protection of women, implement existing legislation, and bring more women into the workforce will have a real impact, not only on women, but on Punjab's wider economic potential. Only by investing in its people, including women and girls, can Pakistan achieve its full potential.
I look forward to working with the people and Government of Punjab to continue to develop Britain's strong relationship with the province.
ENDS
Contact: Press Attaché, British High Commission, Islamabad; tel. 051 201 2000