World news story
British High Commissioner opens the Amir Khan academy in Islamabad
British High Commissioner to Pakistan Thomas Drew CMG joined boxer Amir Khan to open the Amir Khan Academy, the boxer's first boxing academy in Pakistan.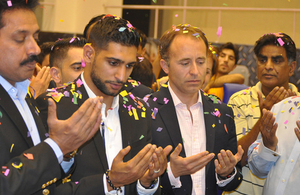 British High Commissioner Thomas Drew CMG today joined British champion boxer Amir Khan to open the Amir Khan Academy at the Islamabad Sports Complex in Islamabad, Pakistan.
The new venue is Amir Khan's first boxing academy in Pakistan.
Speaking at the launch, Thomas Drew said:
You came here to see a boxer not an Ambassador, so I will keep it short.

But what Amir Khan is doing here is about more than just boxing, so I do want to say a couple of things.

When I heard the news of the death this morning of one of the world's greatest boxers, I knew exactly what I wanted to say. Mohammed Ali was a great boxer, like Amir, but he was also more than that. He was an inspiration to millions throughout the world. He touched everyone, but had a particular impact on the young. He inspired not just through the grace of his boxing, but also through the sense of purpose he instilled – a desire and a determination to achieve in life.

This is what tonight is about. Through his academies, Amir Khan is inspiring the next generation – in Pakistan and in the UK – themselves to achieve in life. I too therefore am very proud to be taking part in the opening of his academy in Islamabad – the first in Pakistan.

As I said at the beginning, boxers and Ambassadors are very different beasts. What we do, however, have in common is our desire to help Pakistan, the 6th biggest country in the world, unleash its full potential. And we both recognise that in this fast growing country – where nearly 60% of the population is under 23 – that means investing in its youth. The British Government's biggest development programme anywhere in the world is in Pakistan. And the biggest bit of that is in education. Only yesterday I opened a new British Council library for young people in Lahore and a new digital library for others across Pakistan. And we, like Amir, recognise through our programmes the power of sport – though I won't claim to have anything like the pulling (or punching) power that he has.

So, to return to where I started, this is a sad day for the world of boxing. But I take comfort too in the knowledge that an element of Mohammed Ali's power to inspire future generations lives on in initiatives such as this.

I wish you all well.
Contact
Press Attaché
British High Commission
Islamabad
Tel. 051 201 2000

Published 6 June 2016