World news story
British High Commissioner Marks St Andrew's Day in Tanzania
The British High Commissioner to Tanzania, Sarah Cooke, flew the Saltire at her Residence and gave speech celebrating the achievements of Scottish Women.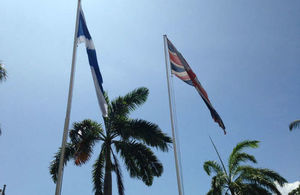 British High Commissioner Sarah Cooke, and her partner, Calum, a proud Scot, were guests of honour at this year's Tanzanian Caledonian Society St Andrew's Day ball.
The theme of the ball was celebrating the achievements of Scottish Women.
Speaking at the event, the High Commissioner said:
"I'm delighted that this year we have the first female Chieftain of the Caledonian Society here in Tanzania. I am also very proud to be the third consecutive female British High Commissioner representing the United Kingdom in Tanzania. There are now around 50 female British Ambassadors and High Commissioners representing the UK around the world, with 14 of us in Africa.
At its heart, Scotland reflects the values of its Patron Saint – St Andrew – who we celebrate annually on 30th November.
St Andrew embodied warmth and kindness; spoke up for the less privileged; championed minorities and promoted inclusivity.
And today, Scottish women are doing just that.
This year was the appointment of the first female head of the Church of Scotland as well as the 50th anniversary of women being ordained as Scottish church elders.
Three of the political parties have Scottish female leaders.
Earlier this month, Sierra Leone marked one year of being Ebola free. This was down to the courage, compassion and expertise of the British response team – including a number of Scottish women - who helped free the country from the grip of the disease.
This year also saw Scottish women contribute to a superb medal haul for Team GB in both the Olympics and Paralympics - breaking records as they went.
Outside sport, Scottish women contribute to the success of the wider Team GB. In business, science, law and culture, Scottish women are trail blazing. They are helping us all to put the GREAT in Great Britain.
The Saltire flag was proudly flown outside the British High Commissioner's Residence and throughout the United Kingdom and around the world to mark St Andrew's Day''.
Published 30 November 2016