World news story
British High Commissioner extends Eid greetings
The British High Commissioner to Pakistan, Thomas Drew CMG, has issued a message of celebration to mark Eid ul-Fitr.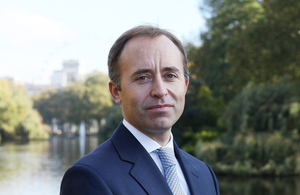 In his message the British High Commissioner Thomas Drew said:
On behalf of the British Government and all here at the British High Commission, I send my best wishes to all Muslims in Pakistan and elsewhere as they celebrate Eid ul-Fitr.
I remember from the last time I spent Eid ul-Fitr in Pakistan in 2008 the importance of the festival to mark the end of the holy month of Ramazan. I remember it being a time of gratitude and contemplation, but remember also the joy as families came together.
Eid Mubarak!
Contact
Press Attaché,
British High Commission,
Islamabad; tel. +92 300 5005306

Notes for Editors
The Prime Minister has recorded a [video message for Eid](https://www.youtube.com/watch?v=cvY7Aud8kdE)

Published 5 July 2016