World news story
British High Commissioner announces 2013 Charlie Perkins Scholars
The British High Commissioner to Australia, HE Paul Madden, announced the recipients of the 2013 Charlie Perkins Scholarship.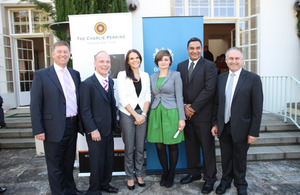 The scholarship scheme assists Indigenous Australians to pursue postgraduate study at Cambridge and Oxford Universities.
Jointly supported by the British Government, the Australian Government and Rio Tinto, and managed by the Charlie Perkins Trust, the scholarship programme was established in 2009 in the memory of Dr Charlie Perkins AO, the first Australian Indigenous man to graduate from university.
HE Mr Paul Madden said he was pleased to have hosted the ceremony at his residence to announce the latest scholars in the presence of Senator The Hon Don Farrell, Minister for Science and Research, the UK Secretary of State, Department for Environment, Food and Rural Affairs, The Rt Hon Owen Paterson MP, recipients' family and friends, and representatives from Indigenous, academic, government, business and arts organisations.
Speaking at the reception, Mr Madden said:
The British Government is very pleased to be involved in this extremely worthwhile scholarship initiative and I am delighted to be able to announce today we will be sending four scholars to study in the UK. It was good to see once again such a high calibre of applicants for the scholarship.
I congratulate this year's Charlie Perkins Scholars who have each shown exceptional leadership qualities in their academic and personal lives.
They are going to be studying at two of the finest universities in the world. I am sure they will benefit enormously from the experience, which will help them make a great contribution to Australian life in their future careers.
Speaking about the Scholarships, Trustee of the Charlie Perkins Scholarship Trust, Rachel Perkins said:
The trust is proud to announce the support of these four extraordinary Indigenous scholars to study at Oxford and Cambridge this year. It is a wonderful realisation of my father's vision that Indigenous people must strive for excellence in all endeavours.
The four recipients; James Cook University graduate Vincent Backhaus, UNSW graduate Rex Betar, University of Melbourne graduate Sarah Lynn Rees, and Australian National University graduate Leila Smith will commence their chosen postgraduate studies at Cambridge or Oxford Universities later this year.
The scholarship is valued at over $50,000 per annum and includes all tuition fees and living expenses.
View our Flickr gallery of the reception.
About 2013 Scholars:
Vincent Backhaus, a descendant of the Kalkadoon people from Queensland, holds a first class honours degree in Anthropology from James Cook University and was a 2012 Aurora Study Tour Scholar. Vincent has been accepted to undertake an MPhil in Psychology and Education at Cambridge.

Rex Betar,a Bundjalung man from Tweed Heads, holds an Arts/Law degree from UNSW and a Masters in Law from the National University of Ireland Galway. Rex has been accepted to undertake an MBA at Oxford.

Sarah Lynn Rees, a descendant of the Plangermaireener people, holds a Bachelor of Environment majoring in Architecture (first class honours) from the University of Melbourne and was a 2012 Aurora Study Tour Scholar. Sarah has been accepted to undertake an MPhil in Architecture and Urban Design at Cambridge.

Leila Smith, a Wiradjuri woman, holds a first class honours degree in Sociology from the ANU and was a 2012 Aurora Study Tour Scholar. Leila has been accepted to undertake an MPhil in Public Policy at Cambridge.
About Scholarship programme:
Launched in 2009 at the British High Commissioner's residence in Canberra, the Charlie Perkins scholarships are particularly directed towards Indigenous Australians who have the potential to become leaders in the field of study and in their communities.
The programme is supported by the British Australian, the Government Government, Rio Tinto, the Vice Chancellor and Development Office at Oxford University, the Cambridge Commonwealth Trust, Cambridge Australia Scholarships, the Pratt Foundation and the University of Canberra.
For more information visit the Charlie Perkins Trust
Published 23 April 2013