World news story
British High Commission Victoria celebrates The Queen's 90th birthday
To mark Her Majesty's life and achievements on the occasion of Her 90th birthday, BHC Victoria held a Queen's Birthday Party in June.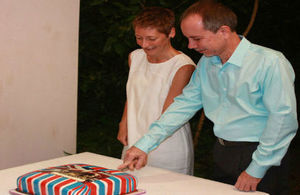 With attendees from across Seychelles and abroad, the British High Commissioner Caron Röhsler held a commemorative birthday party for Her Majesty's 90th birthday at her Residence on 16 June 2016. Alongside the birthday celebration, Seychelles also celebrated its 40th Independence Day.
Impressing the audience with her newly acquired local language skills, Ms. Röhsler opened the evening with a few words in Creole to welcome the guests and remark on the meaningful partnership between UK and Seychelles.
Speaking of The Queen's distinguished role and achievements for over 63 years, Ms. Röhsler said:
Her Majesty's generation has seen great change: globally, politically, socially, technologically and culturally. She has adapted her family to these changes but, through all of that, she has also been steadfast, a constant reference point for many, a symbol of duty and devotion. Her dedication has earned her respect and admiration in Britain, the Commonwealth, and the wider world.
As Seychelles also celebrated its 40th Independence Day, there was opportunity to highlight the partnership UK and Seychelles has developed over the years, in varying sectors including environmental sustainability, finance and marine science.
The High Commissioner added:
We admire the role Seychelles has played in developing and championing the Blue Economy. Alongside the Commonwealth, we have given practical, as well as moral, support: The Prince of Wales' International Sustainability Unit has worked alongside the dedicated staff at the Ministry of Finance, Trade and the Blue Economy to shape the Blue Bond, an innovative financial instrument with the potential to deliver sustainable growth for the local fishing industry. We hope it will be a model of environmental financial best practice for the world.
As part of the UK's commitment to the development of Commonwealth Small Island Developing States' (SIDS) Blue Economies, scientists from British marine and environment agencies have also been visiting Seychelles to discuss how British support can help deliver new advances in the Blue Economy.
Continuing on the bilateral relationship between the two nations, Ms. Röhsler also referenced how such efforts have enabled opportunities for future progress, moving from a focus on security to an emphasis on prosperity for both countries, including reigniting the trade relationship between Seychelles and UK.
The High Commissioner also highlighted the importance of supporting and encouraging the youth of Seychelles, giving the example of programmes like the Queen's Young Leaders, while making reference to the fact that almost half of the Seychellois public are under the age of 30.
Ms. Rohsler said:
I have felt privileged to work with some of this inspiring, outward-looking and dynamic young generation of Seychellois who are helping to chart a new course for Seychelles. I encourage all young people to have their say, and those of us in the older generations to do more than just listen.

It is characteristic of Her Majesty to support young people, who - as we were reminded at the Commonwealth small states conference, here in Seychelles recently - make up 60% of the Commonwealth.
As a member of the Commonwealth, Seychelles played host to Her Majesty and HRH Prince Phillip during a visit in 1972, which included calls to local districts Port Glaud and Anse Boileau, as well as the Mission Lodge, a local heritage site.
Speaking about Seychelles' International Airport, which Her Majesty also inaugurated during her visit, Ms. Rohsler said:
It is perhaps the one piece of infrastructure that has, more than any other, enabled Seychelles' economy to flourish and its people to thrive.
The evening's formalities concluded with a speech from Seychelles' Minister of Foreign Affairs and Transport, Mr. Joel Morgan, who further affirmed the meaningful engagement between the two nations.
The Queen's Birthday Party celebrations this year in Seychelles were a great success, with guests able to enjoy traditional British food and beverages, alongside a Union Jack cake – as well as a spot of traditional British weather on the night.
Published 26 July 2016