World news story
British High Commission marks World War One remembrance through football
British Diplomatic Missions across the globe, are marking the 100th anniversary of the WWI Christmas Truce by hosting commemorative football matches.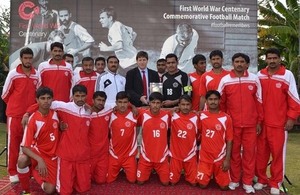 An International XI football team, consisting of British, German, French and Pakistani players, teamed up today to play against the Pakistan Army XI team to commemorate one of the most iconic moments of World War One - the 1914 Christmas Truce football match.
Players from both teams stood side-by-side before kick off to pose for a photograph in memory of the British and German soldiers who participated in an unofficial ceasefire to play football together in December 1914 and all of those who fought in the Great War and other conflicts since.
Football teams and communities around the UK, alongside British Diplomatic Missions across the globe, are marking the 100th anniversary of the First World War Christmas Truce by hosting commemorative football matches throughout December.
The famous truce began when German soldiers started to sing Christmas carols in their trenches. British troops responded. Gradually both sets of soldiers moved out of their trenches and met in 'No Man's Land' near Armentieres, France. After exchanging stories and gifts, several games of football began between English and German soldiers. After the matches the unofficial truce ended and the fighting eventually resumed.
Inaugurating the event, the Deputy British High Commissioner to Pakistan, Patrick Moody said:
Today is a great opportunity for us to remember an important moment in our history. We all grew up with the story of soldiers in First World War – from both sides of the conflict – putting down their arms on Christmas Day 1914. This historical event remains wholly relevant today as a message of hope over adversity, even in the bleakest of times.
Indeed, no records of Britain and the Commonwealth in the First World War would be complete without noting the huge contribution made by regiments drawn from what then constituted of northern India. By 1916 the Punjab alone was generating some 50,000 new recruits a year for the British Indian Army. Such was the contribution from this part of pre-partition India that nearly two thirds of the entire Indian Army was drawn from just three regions – the Punjab, NWFP and Nepal.
Last month, the British High Commissioner unveiled a plaque in the honour of three brave Pakistani soldiers who were awarded Britain's highest award for gallantry during the First World War: Sepoy Khudadad Khan, who was the first South Asian and Muslim recipient of the Victoria Cross, Jemadar Mir Dast and Naik Shahamad Khan. Ties such as these help explain the unbreakable bond that continues to exist between Pakistan and the UK today.
Further Information
Press Attaché, British High Commission, Islamabad; tel. 051-2012000
Published 15 December 2014