World news story
British High Commission Lusaka marks International Day of the Girl Child
The UK government is committed to promoting gender equality in Zambia by empowering women and girls and reducing violence against them.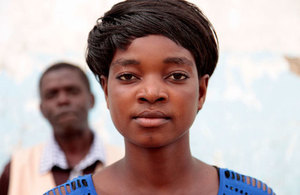 Speaking in Lusaka to mark the International Day of the Girl Child which falls on 11 October, British High Commissioner Fergus Cochrane-Dyet OBE said:
Today 11 October, countries around the world are celebrating the International Day of the Girl Child. I am delighted that the UK government is working in partnership with the Government of Zambia, the UN, civil society and most importantly girls themselves to empower them and raise awareness about their rights. Child marriage is a huge problem in Zambia with nearly two in five girls married off before they are 18. I commend the Government of Zambia for being the first AU country to launch a campaign to end child marriage.
The UK, through the Department for International Development (DFID), is providing £685,000 to support efforts to end child marriage in Zambia. The UK is also providing £12million, through the Adolescent Girls Empowerment Programme, to support adolescent girls with social, financial and sexual and reproductive health knowledge and skills.
In addition, the UK is working in partnership with the Government of Zambia to ensure all children have the best start in life through the nutrition programmes for pregnant women and children as well as working with the Ministry of General Education to improve the opportunities for all children to get the best education possible.
Mr Cochrane-Dyet said the UK is committed to stepping up its engagement with adolescent boys and girls, challenging social norms, behaviours and attitudes that limit girls' development, and amplifying the voices of girls and boys who want to see a brighter future for all Zambians.
Further information
The Department for International Development (DFID) leads the UK Government's fight against world poverty and is a committed development partner in Zambia.

DFID works directly to make progress towards the most off-track Social Development Goals, including extreme poverty, gender, maternal mortality, sanitation and hygiene.

We are increasing the demand for accountability by strengthening citizens' and civil society's voice, building on the media and civil society freedom.

To address jobs and productivity as key binding constraints to Zambia's transition, we have programmes aimed at removing barriers to wealth creation and investment to create a sustainable future for Zambia.

Read more about DFID programme on the Development Tracker
For further information contact the Press and Public Affairs Section on +260 211 423200 or Alfred Kapalayi on +260 955 945771

Published 12 October 2016