World news story
British High Commission marks Chevening's 30th anniversary
British High Commission celebrates 30 years of Chevening and bids farewell to 2013/14 scholars.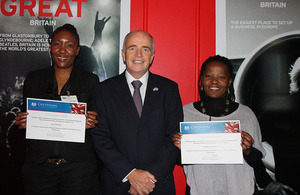 2013 is the 30th anniversary of Chevening Scholarships.
The British High Commission in Botswana on Tuesday 27 August celebrated the 30th anniversary of the Chevening Scholarship Programme. The Chevening programme was launched in 1983 and has developed into a prestigious international scheme, attracting a wealth of high calibre applicants from all around the world.
The High Commission hosted a reception to celebrate this important milestone and bid farewell to the two latest scholars from Botswana, Anna Mmolai-Chalmers and Diana Meswele, who will start their studies at UK universities next month. The Minister of Presidential Affairs and Public Administration Mokgweetsi Masisi, who is also a former Chevening scholar, was the guest speaker.
The British High Commissioner Nick Pyle said: "this prestigious award promotes greater understanding of the UK's culture and values by providing for postgraduate Master's degrees. The people to people links, exemplified by Chevening scholars, are the foundation for an enduring and ever-deepening relationship between Botswana and the UK. I warmly congratulate those who have been awarded this year's Chevening Scholarships and also the 60 plus Chevening alumni across the country who are celebrating 30 years of Chevening scholarships in Botswana."
The Chevening programme has sent over 60 Batswana to study in the UK. Many Chevening Scholars have gone on to reach positions of influence in a range of sectors: some work as MPs, leading journalists, opinion leaders or policy advisors to NGOs and think tanks; others occupy senior positions in public and private organisations. Some of Botswana's prominent alumni include MPs Mokgweetsi Masisi, Botsalo Ntuane and Philip Makgalemele;government Directors, Steve Monna, Caroline Okello Wengi and Magdeline Madibela; human rights activists Alice Mogwe, Batsho Nthoi; and Head of Puma Energy Mahube Mpugwa.
Notes for Editors
Chevening Scholarships are the UK Government's global scholarship programme, funded mainly by the Foreign and Commonwealth Office (FCO). The programme makes awards to outstanding scholars with leadership potential from around the world to study postgraduate courses at higher education institutions in the UK. The programme was named after Chevening House, the country residence of the British Foreign Secretary.
The Chevening programme began in 1983 and has developed into a prestigious international scheme. Chevening Scholars come from over 120 countries worldwide (excluding the USA and the EU), and 700 scholarships were awarded in 2011-2012. There are over 40,000 Chevening alumni around the world who together comprise an influential and highly regarded global network.
The scholarship programme provides full or part funding for full-time courses at postgraduate level, normally a one year Master's degree.
For more information see: www.chevening.org
Published 28 August 2013