World news story
British High Commission Kingston provides funding to the Foundation for Community Leadership
This was published under the 2010 to 2015 Conservative and Liberal Democrat coalition government
The high commission supports rural development through training in entrepreneurship and sustainable livelihoods.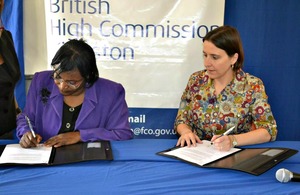 The Foundation for Community Leadership (FCL) recently received £15,000 in funding from the British High Commission Kingston to implement a project focussing on community development.
The project is located in the rural community of Frankfield, Clarendon in central Jamaica. Deputy High Commissioner, Julia Sutherland, and Hyacinth Beverley McLean, Founder of FCL signed the contract marking the official start of the project, during a ceremony held in the community at the end of January.
FCL collaborates with faith-based groups and the National BEST Community Foundation Programme to assist community development committees (CDCs) to mobilise resources to help unemployed youth and disadvantaged women to earn an income and improve their livelihood.
The focus of the project is to reduce poverty levels within the community through utilising local resources such as fruits, spices and herbs as well as farm waste to produce value added products , for sale island-wide to improve the livelihood of residents while protecting the environment.
This will be achieved by training in agro-processing and entrepreneurial skills leading to the development of agriculture-based microenterprises. Participants will obtain skills training through HEART/NTA, Jamaica's national training agency, and the Bureau of Standards leading to certification in agri-processing and food processing.
Document information
Published: 19 February 2013